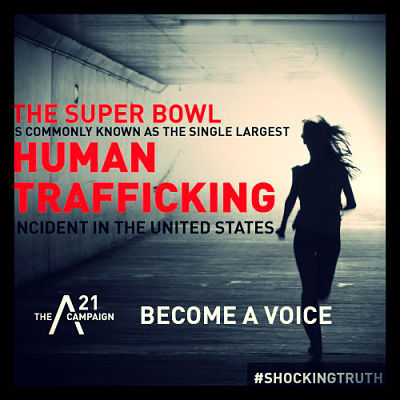 Human trafficking is one of the most prevalent, discerning issues of our time. The fact of the matter, which has been professed by organization after organization for years now, is that there are more slaves now than there have ever been in the history of mankind. In the US alone, The Huffington Post has estimated that the industry brings in over $9.5 billion annually.
While this truth is distressing, there is a silver lining. At no point in mankind has there ever been so much support against human trafficking, nor the technology or infrastructural support to combat it, as there is now.
Human trafficking generally implies either forced labor or sex trafficking, the latter occurring in higher frequency around large gatherings of people, where there may be a larger pool of potential clients. An example of such a situation was the Super Bowl XLVII, which passed on February 3rd.
Fionna Agomuoh of The International Business Times writes that there was an "estimated 10,000 women and minors that were trafficked in the Miami area during the 2009 Super Bowl in Tampa, Fla., according to the Florida Commission Against Human Trafficking." One can only assume that the issue of trafficking around this annual event has only increased in the four years since then.
In anticipation for sex trafficking at Super Bowl XLVII, local businesses, advocacy groups, and law enforcement agencies joined together in a public campaign to support victims and make themselves available to individuals looking to escape the sex work industry by raising awareness in the form of "handing out pamphlets to local clubs and bars detailing how to spot and what to do if sex trafficking is suspected, as well as distributing bars of soap to hotels with hotline numbers etched on them to aid victims looking to escape."
USA Today also posted a full-page ad against human trafficking prior to the Super Bowl and the "A 21 Campaign, established in 2008, released several Super Bowl-related info-graphics about human trafficking this year."
Awareness will breed more advocacy on the issue, of course, so while sex trafficking is one of the largest understated issues of American life, much like poverty, arming ourselves and our communities with knowledge and facts about the issue is definitely a step in the right direction.
– Nina Narang
Source: International Business Times
Photo: ChicagoNow
https://borgenproject.org/wp-content/uploads/logo.jpg
0
0
Borgen Project
https://borgenproject.org/wp-content/uploads/logo.jpg
Borgen Project
2013-02-12 12:16:29
2020-04-08 19:06:52
Sex Trafficking at Super Bowl XLVII