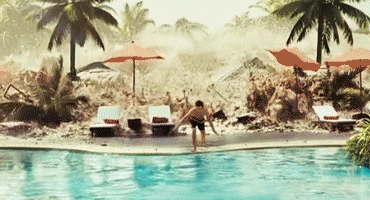 December 26, 2004. Billions of people were waking up, making coffee, or in other parts of the globe preparing for a good night's sleep. On the coast of Thailand, billions of tons of water crashed onto the shores. An extremely powerful earthquake, classified as a 'megathrust', caused an enormous Tsunami. Major damage was suffered up and down the coastline, including the eco-resort of KhaoLak.  A classic warning sign of an impending tsunami is a trough, when the ocean is pulled back from the shore before the waves come down. Sunbathers and swimmers alike did not have time to register this warning as they were distracted by the thousands of fish left on the sand. Nearly six thousand people were killed, and many of them were vacationing tourists. Hundreds more were injured or displaced from their destroyed homes. The main city with excellent hospitals, Phuket, became the main area of medical care during the aftermath and was covered intensively by media and news crews.
Under a 'memorandum of understanding', the U.S. donated with other nations Part One of the DartII buoy system to Thailand. The system uses 'tsunameters' and seismic information to predict potential tsunamis. The goal is to give everyone on the Indian Ocean from Thailand to Sri Lanka a sixty minute warning before another tsunami strikes. The systems have been implemented gradually since 2005, and are known collectively as the Indian Ocean Project. Thailand today is almost reminiscent of what it was before the tsunami ever struck. Beach days and nightlife are in full swing, hotel rates are down, shopping is up, and Thailand is welcoming visitors and tourists for the New Year. Economically, tourists visiting will help boost the market and get Thailand back to a stable place from which they will continue to grow.
The Impossible  is a feature length film that was released in 2012, eight years after the tsunami struck Thailand. It is based on the true story of Maria and Henry Bennet as well as their three sons, Thomas, Lucas, and Simon. Naomi Watts and Ewan McGregor play the parents of the three boys that were staying at a resort on vacation when the Tsunami struck.  Maria and Lucas were separated and stranded on the coastline, both severely injured. Henry, Simon, and Lucas had survived and ended up searching the resort for the rest of their family before traveling to Phuket to search the hospitals. Maria and Lucas ended up being aided by locals and also taken to the hospital in Phuket. The movie follows their harrowing and desperately hopeful story of surviving the tsunami and finding their way back together which, in the end, they do. The real family has returned to the beach every Christmas Day since, as a reminder to themselves and their children not to live in fear but to conquer the impossible.
– Kaitlin Sutherby
Sources: Phuket Thailand, Jakarta Post, IMDB
Photo: Giphy.com
https://borgenproject.org/wp-content/uploads/logo.jpg
0
0
Borgen Project
https://borgenproject.org/wp-content/uploads/logo.jpg
Borgen Project
2014-01-13 22:18:19
2017-05-31 12:10:31
2004 Thailand Tsunami: 10 Years Later