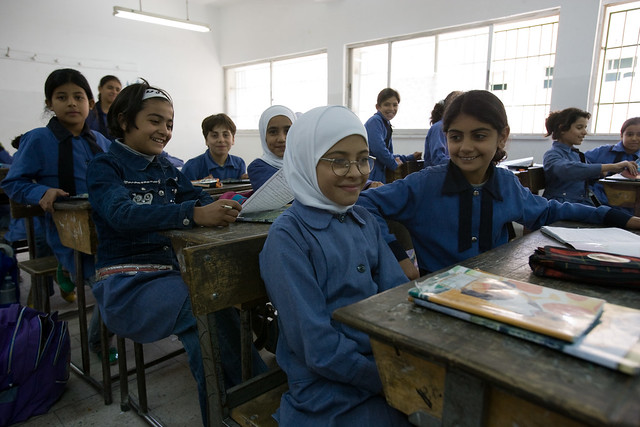 The ongoing civil war in Syria has had a serious impact on many aspects of Syrian life. Syria once contained a highly educated middle class, but since the start of the civil war, this has significantly declined. Women have experienced a large reduction in their access to education. Here are 10 facts about girls' education in Syria.
10 Facts About Girls' Education in Syria
During the 1990s, primary and preparatory schools were built to combat low literacy rates in Syria. Parents were legally required to send their daughters to school. This created equal enrollment ratios in primary schools for male and female students that reached around 92.61 percent enrollment in 1996. The war in Syria has drastically decreased opportunities for children to attend school, dropping the overall enrollment rate in secondary schools down to 44 percent by 2013 from 72 percent just four years before in 2009.
Conflict in Syria has caused countless families to flee from rural areas to neighborhoods of 1070, Tishreen and Al-Riyadeh. These are areas where urban planning has worked to create apartments. A need for more classrooms arose due to a population increase and people taking refuge within these neighborhoods. UNICEF built a new 1070 school in 2013, the only girls' intermediary school in the neighborhood, providing safety for students from the conflict in their neighborhood. However, in 2016, residents of the neighborhood fled due to an increase in mortars and bombardment. The school was abandoned and destroyed. This is common in Syria, where one in every three schools are damaged or destroyed, severely limiting student's access to educational facilities.
With 2 million children out of school due to the war, the amount of young displaced Syrian girls who get married before 18 has reached 41 percent. Education limits girls' vulnerability to early marriage. However, with limited opportunities for girls to attend school, they have no way to learn the skills and obtain knowledge to advocate for themselves against child marriage.
Regions controlled by Islamic extremists follow a curriculum outlined in "Women of the Islamic State", a manifesto defining the role of women in society. This curriculum discourages women from attending institutions of higher education. It also supports a domestic-based education and marriage by the age of 16.
Under the guise of an educational opportunity, young girls are often recruited for armed conflict. In 2017, 89 girls were recruited and used for armed conflict. Recruitment removes children form educational opportunities and puts them at severe risk.
The Syrian Government has also worked to diminish the role of female teachers in the education system by denying the salaries for women teachers located in conflict zones. This often eliminates the primary income of a family and disproportionately affects young girls working towards achieving an education. Without female role models as teachers, young girls are often displaced from the education system, putting them at a higher risk for sexual and economic exploitation.
Efforts made by the Malala Fund are working to provide technology that does not require internet access for Syrian girls to continue their education after seeking refuge in surrounding countries. Specifically, the Malala Fund paired up with Fadi Hallisso, the CEO of Basmeh and Zeitooneh, a Lebanese organization that works with Syrian refugees in Lebanon and Turkey. The organization works to expand educational opportunities for Syrian refugee girls in those regions. The Malala Fund and Basmeh and Zeitooneh have worked to create accelerated learning programs and cultural centers to assist girls in getting up to speed on the educational standards of the local schools.
U.N. Women started working to increase skills building and educational opportunities for girls displaced by the conflict in Syria. Sixteen-thousand female Syrian refugees benefit annually from the Oasis centers created by U.N. Women. These centers offer 400 cash-for-work opportunities as well as skill-building training to improve their opportunity for increased incomes. Syrian girls are also benefiting from the "SADA Women-only Centre," which teaches technological skills, provides language courses, offers counseling services and connects women with jobs. U.N. Women is also working to build advocacy and leadership by Syrian women. A meeting was convened in June 2018 where 200 Syrian women convened to discuss the advancement of women's rights in Syria.
UNICEF started working to increase educational access for children in Syria, providing more than two million children with textbooks, stationery and school bags. UNICEF has also provided almost 80 thousand children with informal education opportunities. UNICEF's focus on educational access for young Syrian children reaches across Egypt, Iraq, Jordan, Lebanon and Turkey with the goal of providing equitable educational access to 1.2 million children.
Countries with high numbers of Syrian refugees are actively working to lift restrictions for school enrollment that disproportionately affect young Syrian girls and implement systems that are accessible for Syrian refugees. In 2014, Jordan recently lifted the requirement for Syrian refugee children to hold a residency card to attend their schools. Syria also introduced a temporary education system that offers Syrian students an education taught in Arabic.
These 10 facts about girls' education in Syria present the lack of access and safety for Syrian girls attempting to obtain an education in Syria and in refugee areas. Many organizations are working to improve the educational inequality for Syrian girls. These efforts are improving educational conditions; however, as the conflict in Syria persists, there is still a necessity for progress towards equitable education in Syria.
https://borgenproject.org/wp-content/uploads/logo.jpg
0
0
Kim Thelwell
https://borgenproject.org/wp-content/uploads/logo.jpg
Kim Thelwell
2019-06-06 01:30:21
2019-12-18 13:44:10
10 Facts About Girls' Education in Syria