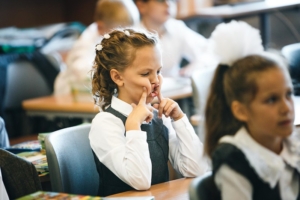 There has been generally positive growth in the awareness of global issues for a long time now. Global poverty is one such issue. Cases of successful poverty reduction can be used as inspiration for encouraging global engagement from a young age. Educating children to become world citizens may very well inspire them to become future leaders for positive changes worldwide.
However, the subject of poverty can be a difficult concept for students to grasp. It is especially challenging for those who have no exposure to a world beyond their own. Teachers who feel passionate about exposing children to global poverty must consider the age of their students. Depending on the class's age, teachers can determine the best methods and approaches for introducing such an important topic.
Potential Curriculums
Ages 6-10: For children at such a young age, the concept must be sensitively introduced. One such way to do this is by framing poverty through a story. A storybook allows children to make comparisons between someone their own age living in poverty and their own lives. Afterward, the lesson encourages them to ask questions and relate their own experiences to what they are learning about.
Ages 11-13: Children at this age are already more aware of the small differences between themselves and others. This awareness makes 11-13 the perfect age range to introduce children to cultures apart from their own. For the lesson, instructors may assign children a specific country that is facing extreme poverty and ask them to research schools in that country. Students may then compare the resources, teacher's education and accessibility of the school they are researching to their own school. Documenting these differences in a notebook allows the children to then use the notebook as a reflection of what they have learned.
Ages 14-18: As young adults explore their lives and their futures, they are excited to explore different and new concepts. They are also developing their own opinions about their passions and beliefs. Exposing them to different artistic observations of poverty through documentaries and photography helps young adults see impoverished countries as unique and vibrant rather than poor and helpless. Additionally, young adults become more aware of their own finances at this age. Students making their own money for the first time are able to sympathize with lessons on the economy of poor countries, such as microfinancing and budgeting less than $1 a day.
Organizations Educating Children to Become Global Citizens
Exposure is critical when educating children to become world citizens. Introducing pertinent organizations and speakers who have been affected by global poverty or work closely in fighting it makes lessons come to life.
Edutopia, founded by George Lucas, this foundation is on a mission to transform education. One of its goals is to provide children with the knowledge that will help them in the real world when they grow up. The website provides teaching strategies including how to diversify what students are taught. The 5 Minute Film Festival is a resource through Edutopia that gives teachers access to various documentaries. The festival also includes the Change Series, published by the creators of the documentary Living on One Dollar. This includes episodes on the challenges developing countries face. Some such challenges include access to clean water, resources for natural disasters, and the prevalence of malnutrition.
CARE is an organization that works to make a difference in countries facing extreme poverty. They recognize education as a primary resource in poverty eradication and provide a toolkit for teachers addressing some of the major challenges in making poverty a thing of the past. CARE uses the United Nation's Millenium Development Goals as guidelines for lessons and activities such as women empowerment, disabilities and diseases. 
TV Programs: Journalist David Brancaccio hosts PBS NOW, a program that addresses domestic issues but also goes beyond by looking at the world as a whole. The show addresses foreign affairs, the environment and health. Teachers can use the show's various topics, such as child brides and climate change, to assist in educating children to become world citizens.
Hope for the Future
Children's rising interest in international issues from an early age allows them to see the world from a different perspective. There has already been a lot of success in reducing global poverty. Yet, understanding challenges across the globe is often overlooked – even by people in wealthier countries that are given the luxury of education. By exposing children and allowing them to explore the world, teachers are educating children to become world citizens.
– Zoe Schlagel
Photo: Flickr
https://borgenproject.org/wp-content/uploads/logo.jpg
0
0
Kim Thelwell
https://borgenproject.org/wp-content/uploads/logo.jpg
Kim Thelwell
2020-10-21 01:30:05
2020-10-21 05:37:59
Educating Children To Become World Citizens