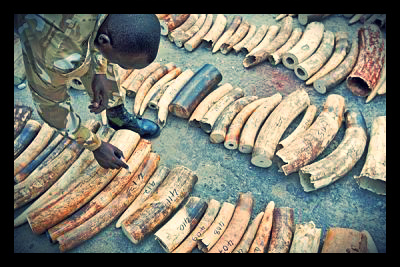 Last Monday Xiamen officials reported that over the past 2 years, two different ivory smuggling gangs were caught with 11.88 metric tons of elephant tusks and ivory product valued at close to $99 million dollars. This report was prompted by the recent ivory confiscating incident at the Mombasa Port in Kenya on October 8. The Kenya Ports Authority found illegal ivory being smuggled out of Kenya in between sesame seed sacks. Another crime last week involved the Tanzanian government tracking down three Chinese people allegedly possessing 706 elephant tusks, which meant 353 elephants were slaughtered.
Although the international ivory trade industry was banned in 1989 after there was a significant drop in the Africa elephant species during the 1980's, elephant poaching and ivory smuggling is still happening. According to the U.N. Convention on International Trade and Endangered Species, 30,000 elephants are killed every year. Officials estimate if the rate of slaughter persists, these glorious animals will become extinct within the next 15 to 20 years.
Senior Program officer of the World Wildlife Fund (WWE) and animal conservation specialist Matthew Lewis warns elephant poaching in Africa is "at the highest levels we have seen since we have been tracking it."
With new crime stories out each week, the African people are growing increasingly enraged at a general Chinese people. Chinese people are also angry at the stigma they have been given because of the group of Chinese who are smuggling. In addition, Chinese people are just angry at the smugglers for their horrific crimes. One Chinese citizen discussed an opinion on the smugglers, "Their teeth should be taken away, and they should be put in a zoo."
China's government and diplomatic agencies strongly oppose ivory smuggling, and agree to cooperate with the international community to conserve wildlife. Due to recent crimes, the Chinese Ambassador in Tanzania has promised to crack down on poaching and smuggling. That said, China also asks the Tanzanian police to abide by the law, and still respect the rights of the Chinese people.
The Chinese people are beginning to spread the word about elephant poaching crimes in Africa. By sharing statement made by the government, personal opinion, and celebrity comments, social media users are beginning to build awareness about the crimes, and calling an end to it. Celebrities including NBA player Yao Ming and actress Li Bingbing, who have both visited Africa, are using their celebrity to advocate via Chinese social media platforms on how serious the poaching is.
A popular Chinese microblog site called Sina Weibo is a growing platform for public discussion on social issues, in addition to news distribution. Specifically, awareness on wildlife conservation has greatly improved in recent months. Even children are beginning to take part in awareness and advocacy.  That said, social media is only one small outlet for making change. The Chinese African governments, and other international players will need to collaborate effectively to crack down on criminals.
– Laura Reinacher
Sources: Ecns, Ecns, China Daily
https://borgenproject.org/wp-content/uploads/The_Borgen_Project_Logo_small.jpg
0
0
Borgen Project
https://borgenproject.org/wp-content/uploads/The_Borgen_Project_Logo_small.jpg
Borgen Project
2013-11-19 04:00:15
2017-10-16 09:07:56
Social Media Helps Defeat Elephant Poaching in Africa