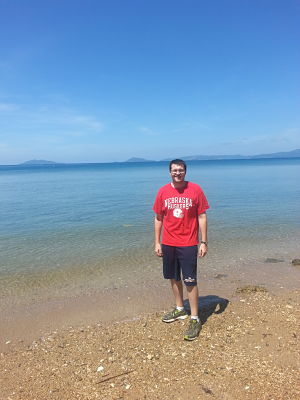 Name: Samuel Bostwick
Location: Omaha, Nebraska
Position: Content Team
Fundraising Goal: $500
How did you get interested in global issues? When I was volunteering in the Philippines, I witnessed poverty first-hand. My first night in the city of Manila, I saw a woman and her three kids living on the streets in an alleyway. The children were sleeping and the woman was sitting on a dirty mattress with a look of defeat and sadness. I told myself that night that if there was something I could do to help people like that woman and her children, I would. I believe that The Borgen Project allows me to do just that.
Why are you volunteering your time to serve the world's poor? I want to make an impact on those less fortunate than me. I was blessed to live in a place that gives me opportunity and allows me to live my best life. I'm aware that there are others around the world that are not as fortunate, and I want to help those that don't have the resources to live their best life.
Any interesting tidbits to share? I love to travel. I've been to six countries, and I've been to 40 of the 50 states. I play the guitar and have been in several bands that played shows in the Omaha area.
My compassion/humility list:
I will do the following for any friends or family who donates in my honor…
$100: Teach you to play guitar
$50: Help your kids with their homework
$25: Make you the greatest breakfast burrito you've ever had
$25: If you can't beat my friend Brian in a hot dog eating contest
$5: You can play with my cat
Support Samuel's Fundraising Campaign
* To ensure they receive recognition, please enter the name of the person you are donating on behalf of below.
The Borgen Project is a 501 (c) (3) nonprofit organization. All donations are tax-deductible to the fullest extent allowed by law. For more information, please contact [email protected] or (206) 471-4148.
To Donate by Mail:
The Borgen Project
1416 NW 46th Street, Suite 105 PMB 145
Seattle, WA 98107
Visit The Borgen Project!
To arrange a tour of the office, please email:
[email protected]
4818 14th Ave NW, Suite 7, Seattle, WA 98107
"Having made tremendous strides on behalf of impoverished families throughout the world, I applaud The Borgen Project for its tireless commitment to ending global poverty. Through strategic advocacy and public education, you are helping to shape U.S. policy for the betterment of mankind."
– Gov. Jay Inslee (WA)
The Borgen Project has earned the GuideStar Exchange Seal for commitment to transparency.