Refugee Crisis Causes Chaos in Calais Port, France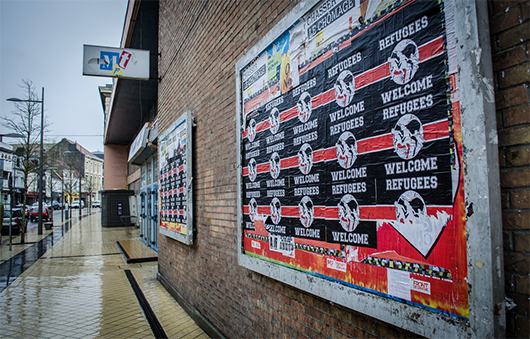 This past week, the recent migration crisis—which has currently been sweeping across Europe and other developed nations in the world—came to a head in the small port of Calais, France. Located in the west of the country, Calais strategically connects France to the United Kingdom via the Channel tunnel and port, and has in recent years become an increasingly popular spot for migrants to try and smuggle themselves into Britain.
In recent weeks, the number of migrants inhabiting the area of Calais has dramatically increased in number, as 3,000 new migrants escaping from conflict-ridden areas in Eritrea, Syria and Afghanistan set up camp near the port. According to British authorities, this situation has caused chaos and fear among British truck drivers, who are often forced to transport migrants illegally with them in their vehicles as they make their way back into Britain. Richard Burnett, chief executive of the Road Haulauge Association, which represents over 83,000 truck haulers in Britain, has stated that "[British] drivers are fearful [but]… can't do anything about it when they've got 10 to 20 [usually armed] people trying to get on board."
The chaotic situation in Calais, brought about by migrants jumping in the back of trucks, was further exacerbated this past week following a Eurotunnel labor strike which took place on Tuesday. Angered at discovering that 400 employees were going to be cut from the Eurotunnel company, strikers shut down the port and threw burning tires onto the tracks, effectively blocking both the tunnel and port.
The striker's actions last week led to hours of stand-still traffic in Calais, as truck drivers and ordinary passengers waited desperately in order to be able to cross back into Britain. Drivers also described the effect of the labor strike as scary and intimidating, with many refusing to open their windows or doors during hours of sitting in motionless traffic for fear that migrants would climb in.
This situation has in turn created frustrations on both sides of the Channel, as British and French authorities struggle with how to deal with the strike and its effect on cross-country migrant smuggling. Natacha Bouchart, the mayor of Calais, has argued that "Calais has been taken hostage by the decisions of the British government," blaming the British for the strike and for refusing to absorb more migrants into the country.
Richard Burnett has similarly blamed the French by arguing that the French authorities in Calais have failed to directly tackle the issue. British authorities have also complained that the chaotic situation in Calais has cost the United Kingdom millions in trade revenue, with the Fresh Produce Consortium estimating that at least 10 million pounds worth of fresh fruit and vegetables have been thrown away in the past year as a result of delays brought about by migrant truck-jumping in Calais.
At the moment, Prime Minister David Cameron and President Francois Holland say that they are working closely together in order to resolve the labor dispute, with Cameron tweeting on Friday, "I've called on @fhollande on Calais & the need to stop the illegal blockade & maintain port security."
Calls to expand the nearby port at Dunkirk, 45 miles from Calais, have also been considered in an attempt to deescalate the situation, while British Home Secretary Theresa May and French Minister of Interior Bernard Cazenueve have also agreed to increase funding in order to improve the security situation in and around Calais.
– Ana Powell
Sources: The Guardian, New York Times
Photo: Flickr
https://borgenproject.org/wp-content/uploads/logo.jpg
0
0
Borgen Project
https://borgenproject.org/wp-content/uploads/logo.jpg
Borgen Project
2015-08-11 09:49:44
2020-03-20 13:20:16
Refugee Crisis Causes Chaos in Calais Port, France