Red Cards to Empower Women to Say "No"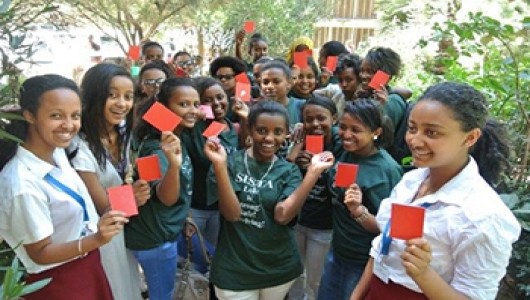 Sexual violence can be addressed by two different questions:
1. How can we empower women to prevent sexual violence?
2. How can we empower men to change their attitudes and practices related to sexual violence?
Programs often tend to focus on addressing one question or the other. However, research organizations, such as the International Center for Research on Women, support both methods.
FHI 360, Family Health International, cites international data indicating, "one in three women worldwide experience physical and/or sexual violence by a partner or sexual violence by a non-partner in their lifetimes."
The red card program has been used in Ethiopia and South Africa to address the first question of female empowerment.
When women attempt to avoid unwanted violence or contact from men, the word "no" often does not work. A comprehensive study by the ICRW indicates that the high prevalence of rape in Croatia, Mexico, Chile, Rwanda, and India is partially due to the fact that for some men, "no means yes".
The red card programs train young women to be assertive in preventing unwanted sexual behavior from men. The analogy of the red card in soccer is used because both men and women associate the red card with the notion to stop some kind of action. Young women are provided with actual red cards that can help them be more assertive when they want to say "no" to unwanted behavior. Of course, "no" should mean "no," and sexual violence can never be justified by a lack of "prevention" on the part of the victim. The only way to end rape is to have rapists stop raping.
The idea is that because the word "no" often does not work, the action of displaying the red card can be more effective. In Ethiopia, about half of the students who received training on the red card program have used it to "say no to sugar daddies, to abusive professors, to avoid violence, to refuse alcohol and other substances, and to insist on condom use."
In South Africa, the program was implemented through Sonke Gender Justice Network, Grassroots Soccer and other NGOs. Mass media forms such as television and radio were used to target many people. Over 1,000 people completed the red card training with Sonke and over 12,000 people completed the program with Grassroots Soccer.
While the red card programs are innovative approaches to provide women with the power to avoid unwanted behavior in the immediate time, the ultimate goal would be for "no" to actually mean "no," and for men to recognize and respect this. This is why institutions such as ICRW also support research and programs that will change the attitudes and practices of men.
– Iliana Lang
Sources: FHI 360 1, FHI 360 2, HCRW Publications, Africa Entertainment,
Photo: FHI 360
https://borgenproject.org/wp-content/uploads/logo.jpg
0
0
Borgen Project
https://borgenproject.org/wp-content/uploads/logo.jpg
Borgen Project
2015-07-17 09:09:28
2020-07-10 12:40:33
Red Cards to Empower Women to Say "No"