Rebels and Refugees in the DRC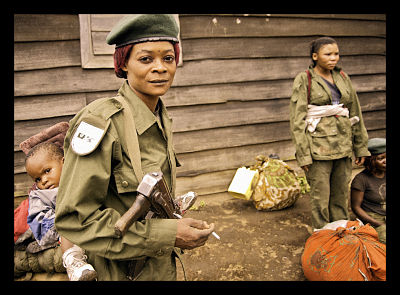 In a traditionally volatile region, violence has once again broken out. In the province of North Kivu in the Democratic Republic of the Congo, two rebel groups have been engaging in fighting with the Congolese armed forces. M23, the most active of the rebel groups operating in the DRC, launched an assault on the army stationed around the city of Goma on July 14th. Prior to that though, the Allied Democratic Forces engaged the armed forces on July 11th. Caught in the crossfire of these separate engagements are tens of thousands of civilians, forced to flee as fighting erupted.
Many of these refugees fled across the border into Uganda where transit centers are quickly filling. In the first few days of the conflict 66,000 Congolese refugees crossed the border. And that was before violence erupted between M23 and the national forces. The situation is even more difficult in Uganda as the country is already playing host to more than 200,000 refugees – 60% of whom originate from the DRC – before this latest round of violence.
The UN Refugee Agency has an annual operating budget of $93.8 million for Uganda, but less than half of this has so far been funded. With the sudden influx of refugees from both Ugandan conflicts, a large portion of the extra burden is falling on Uganda. With transit centers near the borders rapidly filling, the Ugandan Office of the Prime Minister pledged to begin registering refugees and relocating them to longer term refugee camps, where they will be supplied with plots of land to farm. This process, however, is time-consuming, and over-congestion in the transit camps, and the subsequent risk of disease as livestock and people live together in close quarters, has become a primary concern.
With the rebels, particularly M23 around Goma, refusing to back down, UN intervention may soon be seen. UN peacekeepers in the DRC, MONUSCO, had set a deadline of August 1st for rebel troops to hand in their weapons and demobilize. Leaders of the rebel group however dismissed the ultimatum as irrelevant. As a result, a UN intervention brigade, comprised of 3000 troops from Malawi, South Africa, and Tanzania – part of the 20,000 strong peacekeeping force – may soon engage rebel troops in an attempt to establish a "security zone" around the city of Goma.
– David M. Wilson
Sources: UNHCR, Times Live, IRIN News
Sources: Alissa Everett
https://borgenproject.org/wp-content/uploads/logo.jpg
0
0
Borgen Project
https://borgenproject.org/wp-content/uploads/logo.jpg
Borgen Project
2013-08-07 04:00:10
2018-07-31 12:47:57
Rebels and Refugees in the DRC