Reaching Reconciliation in South Sudan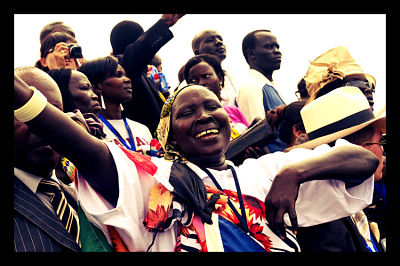 In December 2013, the newest country in the world broke into a violent power struggle of massive proportions. The conflict, instigated within the Sudan People's Liberation Movement (SPLM,) has already killed and displaced a multitude of innocent civilians, primarily from the Nuer and Dinka ethnic groups. Efforts at making peace between the groups have so far failed and are in dire need of reconstruction.
While the official death toll in South Sudan stands at around 500 people, some aid workers have assessed the figure to be much higher, with possibly thousands or tens of thousands dead. Families seek sanctuary in United Nations bases guarded by peacekeepers, yet protection such as this is not enough. The United Nations Mission in South Sudan (Unmiss) has provided in this manner for the relative safety of around 65,000 civilians while the war rages on outside and few further efforts are made by the international community.
When the violence began December 15, the United Nations Security Council promised a near doubling of troops and police officers in the region within 48 hours of the conflict. One month later, South Sudan remains in wait. The physical protection of civilians, though necessary, will lead virtually nowhere if political resolution methods are not properly addressed by those with the appropriate capacity to do so.
The Intergovernmental Authority on Development (IGAD,) currently in charge of peace talks, lacks the essentials to bringing about peace. With Uganda, a leading IGAD member, already taking a stake in the issue, the mediation process fails to maintain impartiality crucial to the peacemaking process. As such, Ahmed Hussain Adam of Al Jazeera suggests a structural renovation to the present mediation.
His proposal for countries such as the United States, the United Kingdom and Norway to become involved in resolving the conflict ultimately brings together nations that helped form South Sudan in 2011 in order to assist the conflicting parties in reaching a lasting peace.
Developing and sustaining a nation is undoubtedly a daunting task. By focusing on the founding agenda and ideals of South Sudan, however, perhaps the warring parties can eventually interact in an inclusive environment and discuss the conflict's primary causes. The world's newest nation is in trouble, but its future is not yet doomed. With the cooperation of the right politically, economically and diplomatically leveraged countries, there is hope for an imminent political solution.
– Jaclyn Stutz
Sources: Al Jazeera, The Guardian, New York Times
Photo: UN News Centre
https://borgenproject.org/wp-content/uploads/logo.jpg
0
0
Borgen Project
https://borgenproject.org/wp-content/uploads/logo.jpg
Borgen Project
2014-02-04 20:54:07
2014-02-04 20:54:07
Reaching Reconciliation in South Sudan