Organizations Helping Female News Anchors in the Middle East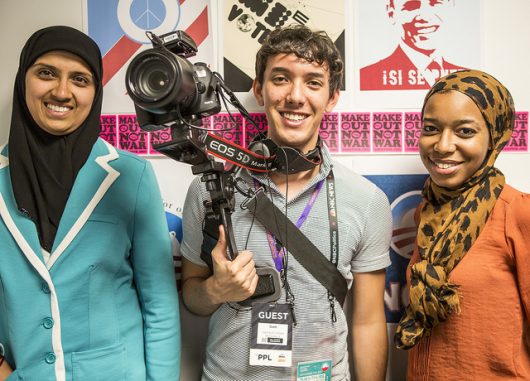 Increasing support for women who experience suppression from gender inequality in many aspects of society has been a focus of many aid organizations and support groups across the globe. According to USAID, "More than half a billion women have joined the world's work force over the past 30 years, and they make up 40 percent of the agriculture labor force."
Although some of these groups and organizations focus on specific issues, gender equality aid has been instrumental in reducing the gender equality gap that suppress so many women.
News and Aid Organizations
Various programs (not limited to those helping news anchors in the Middle East) have been extremely important in supporting young women as well as promoting education. In 2016, approximately $253 million in gender equality aid was used to assist Afghanistan with leveling the gender equality gap that limited capable women.
In addition to aid organizations, news organizations that support women help reduce the gender equality gap as well as confront the numerous challenges faced by female reporters.
Challenges for Women in the Workplace
Debroah Amos, a reporter for ABC 2000, discussed some of the difficulties she faced as a reporter and news anchor in the Middle East:
"I faced a lot of challenges in my work: lack of training on how to deal with violence during field coverage, we work without personal protective equipment. Also, the Egyptian journalism syndicate didn't give us legal protection. Also for me as a female, it was hard to deal with some Salafis during their demonstrations, as they believe it's not permitted to talk with women," she said.
News organizations promoting successful female newscasters and aid organizations supporting women via global funding projects is a powerful and influential combination. As a result of such efforts, women and news anchors in the Middle East are beginning to see changes in their work opportunities. As women advocate for themselves and use these resources to their advantage, true and revolutionary change continues to materialize.
Five News Organizations Supporting Female News Anchors in the Middle East
ZANTV: The first female news station in Afghanistan gives women interested in news a chance to exercise their reporting skills and work in a field they are interested in.
Al JAZEERA: This organization focuses on news in the Middle East, U.S. and Canada. The organization welcomes female reporters to cover topics on the ground.
AL MONITOR: "The Pulse of the Middle East"– This news organization covers topics in Egypt, The Gulf, Iran, Iraq, Israel, Jordan, Lebanon, North Africa, Palestine, Syria and Turkey.
TIME: The organization covers political topics across the world. One woman, identified by Al Monitor as one of "16 Women Journalists to Watch in the Middle East," reports for TIME as well as several other publications about numerous topics in the Middle East.
NPR: Debroah Amos reported on several topics in the Middle East and won a group award in 2004 for coverage in Iraq.
There are several organizations and programs across the world working to reduce the gender inequality gap. A few of these include USAID, Canada's Feminist International Assistance Policy, The "Gender Equality and Women's Empowerment Strategy" in Australia, The Global Fund for Women and the National Organization for Women. In addition to these organizations, the International Women's Media Fund (IWMF) also recognizes influential women in media.
With such powerful advocates in their corner, the push for increased gender equity and the presence of female news anchors in the Middle East is a feasible, opportunistic and exemplary reality.
– Gabriella Evans
Photo: Flickr
https://borgenproject.org/wp-content/uploads/logo.jpg
0
0
Borgen Project
https://borgenproject.org/wp-content/uploads/logo.jpg
Borgen Project
2018-04-25 01:30:14
2019-11-03 18:41:10
Organizations Helping Female News Anchors in the Middle East