Myanmar Creates New Opium Elimination Program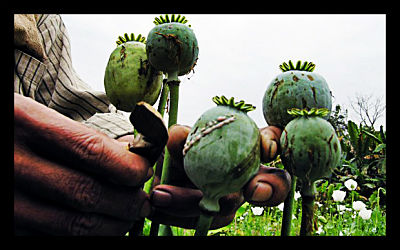 Opium is a narcotic, or an opioid. It is a white liquid made from the poppy plant, and is smoked in order to create euphoria. This is an addicting drug that can lead to physical dependence. Myanmar is the second-largest opium producer in the world. Myanmar, also known as Burma or the Republic of the Union of Myanmar, is located in Southeast Asia, and is bordered by China, India, Laos, Bangladesh, and Thailand. In a region known as "Southeast Asia's Golden Triangle" at the borders of Thailand, Laos, and Myanmar, is notorious for its abundance of drugs and opium production through multiple poppy fields. This is one of the world's primary sources of heroin, and the Myanmar government wishes to eliminate this opium production. Myanmar has been fighting opium within its borders for years, with little success. However, a new opium elimination program was recently created in order to tackle opium.
There was a peace initiative recently implemented in Shan State, which is the eastern part of Myanmar, which may end up helping the eradication of opium and poppies. The country manager of the UN Office on Drugs and Crime in Myanmar, or UNODC, Jason Eligh, detailed the plan to reporters. Basically, the plan is to help farmers wean themselves off of poppy in areas that are rebel-controlled. This will be done in order to gain trust and to help those opium producers find other ways to succeed, without having to turn to illegal means. The first step of this plan is to let survey staff enter Shan State, which grows 90% of the country's poppies.
The plan was created under a partnership between the government of Myanmar and the military of Myanmar. Over the past few years, the growth rate of the poppy plant has increased, despite governmental attempts to lower it. Therefore, a new strategy was necessary in order to fight the growth of this plant. The government of Myanmar has partnered with the Restoration Council of Shan State, or RCSS, which has wanted independence for the past half century, but recently signed a ceasefire with the government in 2011. There are peace talks occurring at this time, and included in those peace talks is a promise to help farmers that are in poverty to have alternative development programmes, which would bring them away from the cultivation of poppy plants, or the temptation to grow them.
The plan to turn farmers to development programmes will occur from 2014 to 2017, and it is a multimillion dollar promise. The overall aim will be to help the infrastructure of Myanmar, as well as improve health and education. Still, a main component of the plan is crop substitution of the poppy plants, in order to raise citizens out of poverty and out of criminal activity. The Association of Southeast Asian Nations, or ASEAN, wishes to make Myanmar drug free by 2015. The Minister of Home Affairs, Lt-Gen Ko Ko, said that alternative development is the solution to the drug culture in Myanmar, and asked for international support, as well as international donors in order to help fund the project.
Overall, the situation in Myanmar is stressful and still a bit tense, but if this plan is enacted properly, it is entirely possible that there will be less or no opium production in Myanmar, and many farmers will be raised out of poverty and criminal activity.
– Corina Balsamo
Sources: The Jakarta Globe, IRIN News, DVB
Photo: The Telegraph
https://borgenproject.org/wp-content/uploads/logo.jpg
0
0
Borgen Project
https://borgenproject.org/wp-content/uploads/logo.jpg
Borgen Project
2013-07-19 04:15:18
2017-11-30 10:50:12
Myanmar Creates New Opium Elimination Program