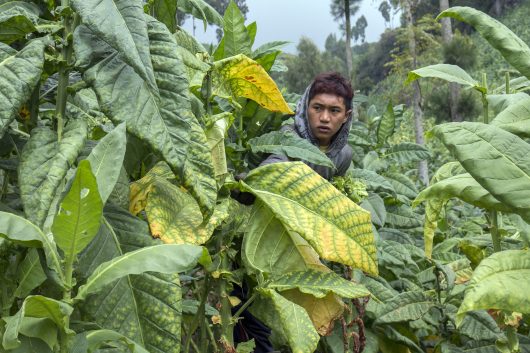 Humans struggle with diseases all around the world, but they become much more life threatening in impoverished countries. As a tropical country, Indonesia facing diseases is paramount in the attempt to improve development.
In Java, Indonesia there is a resurgence of diphtheria in children, mainly due to parents' resistance to vaccinating their children. Lymphatic Filariasis (elephantiasis), polio and bird flu have all taken a great toll on Indonesia and its inhabitants. These diseases in Indonesia not only affect individuals' lives, but also negatively impact Indonesia's social and economic development. In order to control infectious diseases, the government must be able to implement effective interventions.
For bird flu specifically, all suspected infected poultry must be reported and then killed. The government has been very inconsistent in applying this rule but must take action if it wants to eliminate bird flu. Many farmers hide their flocks in fear of having their birds killed; the farmers care more about their loss of livelihood than the spread of disease.
In the peer-reviewed journal, PLOS Neglected Tropical Diseases stated that Indonesia has some of the world's highest concentrations of tropical diseases, holding back Indonesia's emerging market status. High rates of disease are commonly found in low-income countries due to poor economic growth. However, Indonesia has experienced economic growth at an average of 6 percent over the recent years and its middle class is projected to double in size over the next decade.
Indonesia is the only country in Southeast Asia with prevalent schistosomiasis, a parasitic disease prevalent in communities deprived of potable water or sufficient sanitation. Adding to that, almost 10 percent of the world's leprosy cases are in Indonesia. Additionally, the World Health Organization is cautioning individuals about the emerging threat from dengue fever in Indonesia, which Indonesia is already spending a lot of money on — 323 million in 2010.
If Indonesia does not implement better controls to reduce these diseases, their future growth and economic gains could easily be thwarted, mainly due to the country's negative impact on child development, labor and health.
In order to start controlling these infectious diseases USAID and other NGOs are working to improve health efforts in Indonesia. USAID currently has programs in both maternal and child health, infectious diseases (TB, HIV/AIDS), pandemic threats, neglected tropical diseases as well as water and sanitation issues.
To control infectious diseases USAID is partnering with Indonesia's National TB Program to help treat and combat the disease for Indonesia's future. One big step that was made was in 2012 when USAID introduced GeneXpert technology, which diagnoses multi-drug resistant TB in hours instead of months; this act alone has helped save countless lives. For HIV and AIDS, USAID is providing technical support to the Ministry of Health (MOH) to hasten prevention measures being used by the Indonesian individuals.
Lastly, Indonesia facing diseases has caused pandemic threats to the country. USAID has been engaging in a multitude of actions to stop these outbreaks. Along with plenty other assistance, USAID helps the Indonesian government identify and respond to risks as quickly as possible, in addition to increasing access to safe water and sanitation efforts.
Clearly, USAID and other public-health measures have made some progress. A recent study indicates that if it wants to keep the growth train running, Indonesia facing diseases will need to step up its outreach to better eliminate disease, which USAID has started. Hopefully, these positive impacts will end disease in Indonesia soon.
– Bella Chaffey
Photo: Flickr
https://borgenproject.org/wp-content/uploads/The_Borgen_Project_Logo_small.jpg
0
0
Borgen Project
https://borgenproject.org/wp-content/uploads/The_Borgen_Project_Logo_small.jpg
Borgen Project
2016-11-10 01:30:50
2020-05-16 16:37:31
Indonesia Facing Diseases That Are Wreaking Havoc