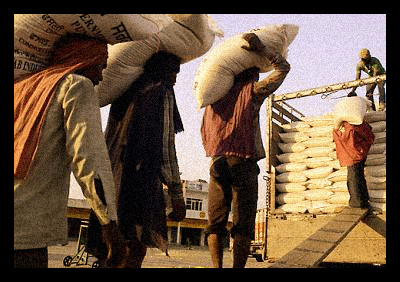 By 2028, India's population will rise to about 1.45 billion people, overtaking China as the worlds most populated country. Currently, 69 percent of India's 1.2 billion people live on less than $2 per day. This means families are struggling to provide basic human needs, often living on the streets or creating entire slum villages out of scrap material.
India's expansive population and unequal distribution of economic opportunity has led to alarming levels of hunger and malnutrition.
The Global Hunger Index 2013, developed by the International Food Policy Research Institute along with Wealthungerhilfe, Institute of Development Studies and Concern Worldwide, ranks India 105 out of 120 countries.  This ranking is based on indicators of undernourishment, children under five underweight and child mortality of which India reported 17.5 percent, 40.2 percent and 6.1 percent, respectively.
Due to widespread poverty, hunger and perhaps, political gamesmanship, India has enacted the National Food Security Act (NFSA.)  This ambitious and controversial piece of legislation aims to supply nearly 800 million people with monthly food grains.  This includes 75 percent of the rural population and 50 percent of the urban population.
The monthly allotment is 5 kilograms of a combination of wheat, rice and coarse grains at approximately $.05, $.03 and $.02 per kilogram, respectively.  Those deemed extreme cases, about 24 million people, would receive up to 35 kilograms of food grains per month.  To coincide with these additional welfare distributions, the new law also designates that pregnant women will also receive one free meal daily until 6 months after childbirth.
Women will also receive a maternity benefit of Rupees 6,000 ($98.)
Under the law, children up to the age of fourteen will receive a free meal.  It also requires the State Government identify children who suffer from malnutrition and provide them with free meals.
Critics of the new law raise the question of whether the NFSA is the proper response the India's hunger problem. Spending even more money on welfare during a period where the rupee has depreciated could be detrimental to the nation's economy.
Another critical issue that the central government must address is the current food delivery system.  Although the new law calls for reforms of the Public Distribution System, the government must ensure that a majority of the food will reach the intended beneficiaries.  Difficulties in identifying the most needy as well as rampant corruption contributed to only 40 percent of distributed food grains reaching their target destination in 2005.
This historic effort to combat hunger within one of the poorest nations in the world should serve as an inspiration to other countries.  Despite the vast amount of obstacles and the sheer number of impoverished people, India has decided access to food is a right not a privilege.
– Sunny Bhatt
Sources: Time, International Food Policy Research Institute, USDA Foreign Agricultural Service, India Code
Photo: News.com.au
https://borgenproject.org/wp-content/uploads/The_Borgen_Project_Logo_small.jpg
0
0
Borgen Project
https://borgenproject.org/wp-content/uploads/The_Borgen_Project_Logo_small.jpg
Borgen Project
2014-01-24 17:47:36
2016-12-15 15:30:13
India's Historic Food Program