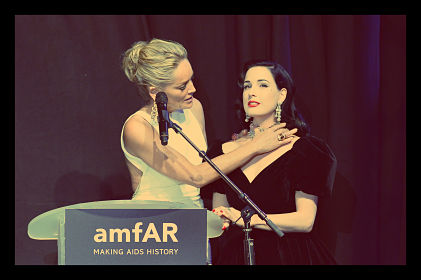 The inaugural Inspiration Gala Rio de Janeiro held this month raised more than $600,000 for amfAR, the Foundation for AIDS Research.  The gala is part of the Inspiration series, which has held multiple other galas in New York, Paris, Los Angeles, Sao Paulo, and Miami.  This year saw the addition of Rio and Toronto to the list of worldwide locations.
"The Inspiration Gala Series: A Celebration of Style" was launched in 2010 by amfAR and Josh Wood Productions, as a worldwide fundraising event to benefit amfAR.  To date the Inspiration series has raised more than $10 million for AIDS research. The $2,500-a-plate Rio black-tie gala was hosted by supermodel Linda Evangelista and included performances by Preta Gil and Ana Carolina. Academy Award winning actress Goldie Hawn and Fashion Designer and amfAR Chairman Kenneth Cole also served as Honorary Chairs. A portion of the proceeds from the benefit will specifically benefit a local Brazilian organization called Pela Vidda, which is dedicated to improving the lives of those with HIV/AIDS.
A live auction of exclusive luxury items was held during the benefit, including tickets to the French Open semifinals, a stay at the Chateau de Saran owned by the Moet & Chandon champagne family, and a Linda Evangelista autographed gold-leaf covered Moet & Chandon Imperial Jeroboam (which sold for $30,000). The exact amount raised was not announced, but local news reports estimated around $1 million. AmfAR fundraising events are lavish affairs that have raised over $350 million in the past 25 years.  A wide range of events is held, including cocktail receptions, store openings, art auctions, and international galas.  Their annual dinner during the Cannes Film Festival has come to be known as the Who's Who of the movie industry. The millions of dollars that amfAR has invested in HIV/AIDS research has led to pioneering research and development of new treatments, preventative medicines and vaccines, and has also played a role in clinical studies and securing passage of key legislation.
The latest global statistics indicate that 33.4 million people are currently living with HIV/AIDS, 97% of which reside in low-income countries.  While most people living with HIV/AIDS still do not have proper access to prevention, care, or treatment, there have been successes in terms of a global effort to address the epidemic. The United States government has also taken on this cause in the form of research and development, technical assistance and financial support.  Among the largest commitments by any nation to combat a single disease internationally is the U.S. President's Emergency Plan for AIDS Relief (PEPFAR).  PEPFAR is the largest component of the U.S. Global Health Initiative, which focuses on improving the health of women, newborns and children.
– Rifk Ebeid
http://borgenproject.org/wp-content/uploads/The_Borgen_Project_Logo_small.jpg
0
0
Clint Borgen
http://borgenproject.org/wp-content/uploads/The_Borgen_Project_Logo_small.jpg
Clint Borgen
2013-10-27 23:27:43
2017-11-30 11:11:20
Inaugural Brazil AIDS Gala Charity Dinner