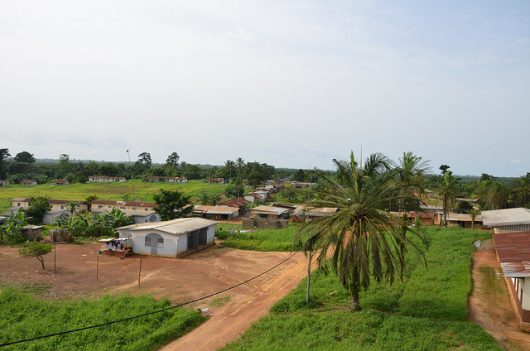 Not often acquiring media headlines or the prime destination for humanitarian relief within its region, Gabon has quietly become one of the most stable countries in West Africa. Albeit much of the economic improvement can be attributed towards increasing oil prices and structural reforms, over 30 percent of the population remains below the poverty line. The success of humanitarian aid to Gabon has been erratic, with recent concerns regarding political stability causing skepticism from the international community.
Most recently, international organizations such as the Red Cross have significantly increased its assistance in wake of the violence following the presidential elections in 2016. Mistrust is a major cause for concern as government corruption allegations hinder any positive aid distribution.
Open Markets
According to the Heritage Foundation, trade is a necessity for a country that is abundant in rich natural resources, particularly in oil. The value of exports and imports taken together "equals 74 percent of GDP." Additionally, there are investment restrictions that drastically impede any progress needed to be made.
Due to heavy tariffs and nontariff barriers, many of the Gabonese population still reside in poverty. Gabon has been part of a rigorous economic program sponsored by the International Monetary Fund (IMF), who issued an 18-month stand-by credit for $119 million.
International Aid
Outside the World Bank, many other countries have continued to foster development projects to reduce the country's dependency on oil, as well as revert a stagnant economy. Other forms of investment devoted to strengthening Gabon's economy have enhanced the robust public infrastructure, modernized technology, promoted investment and competitiveness and improved access to electricity and water in rural areas.
According to Oxfordbusiness, in recent years, Gabon has managed to develop a stable working relationship with many areas ranging from Europe to North Africa, Asia and North America. France has long been their primary trading partner, with over 120 countries operating inside the country.
According to the French embassy in Libreville the "stock of French investment in the country reached €1.3Bn in 2013. Additionally, the European Union has been an integral source of development in the country; allocating €49, of which "was to be devoted to education and professional training, as well as improving governance in several sectors of the economy."
The United States has also been influential by importing $1.1.bn in goods from Gabon, in the form of mainly raw materials, and also "exporting $237m worth of goods" to the country. Latest figures also show China's investment in the country has created a growing working relationship between the two countries.
Their humanitarian aid to Gabon comes in the forms of financial projects and a loan of €6m, of which was included in "recent cooperation agreements between the two countries." Additional countries such as Morocco and Turkey have also become important sources of contribution to Gabon's well-being.
Final Thoughts
One index which has closely monitored Gabon's exponential growth in recent years is the Hunger and Nutrition Commitment Index Africa (HANCI-Africa). The objective of the HANCI-Africa is to enable civil society by putting pressure on its governments to adhere to the local population.
Essentially, the central component of this index is to separate both nutrition commitment and hunger to make government's aware of how to better prioritize malnutrition to properly curate their agenda. The government has also taken steps to revive the economy by domestically investing in palm oil production as part of a project to veer away from its dependency on oil.
But this prospect backfired, with Gabon's budget being "reduced by over 5 percent in 2017 – and income per capita declining in 2015 for the first time in 15 years."
As a result, residents have lost thousands of jobs, and the government's response has been to invest in the agricultural and mining sectors. Additionally, the influx of humanitarian aid to Gabon took a toll because of countries' concerns on whether the money is distributed effectively.
If the growth continues to stagnate, then one can only wonder how long it will be before Gabon may need to rely even more on substantive humanitarian aid in order to lift the country out of poverty.
– Alexandre Dumouza
Photo: Flickr
https://borgenproject.org/wp-content/uploads/The_Borgen_Project_Logo_small.jpg
0
0
Clint Borgen
https://borgenproject.org/wp-content/uploads/The_Borgen_Project_Logo_small.jpg
Clint Borgen
2018-01-08 01:30:34
2020-03-26 12:21:42
The Varying Levels of Success: Humanitarian Aid to Gabon