HDI Report 2013 Shows Progress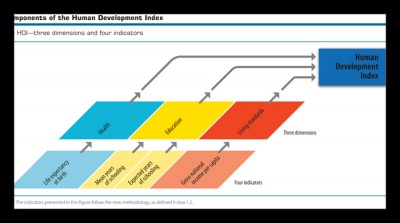 Yesterday, the United Nation published its 2013 Human Development Report. Among the most encouraging signs of development are the percentage increases in some of the countries with the lowest Human Development Indices (HDI). Gains have been seen in every single country with complete data since 2000; no country is worse off than 13 years ago by the standards of the HDI report.
This metric measures statistics like infant mortality, per capita income growth, and school attendance in order to give an accurate picture of how a country's development is proceeding. Some of the countries which have had notoriously low HDIs have seen "impressive" gains of more than 2% per year, including Ethiopia, Myanmar, and Liberia. Niger and the Democratic Republic of the Congo have seen these gains as well, and despite having the lowest overall scores in the world, they are "among the countries that made the greatest strides in HDI improvement since 2000."
Although sub-Saharan Africa has the lowest average HDI of all global regions, its growth since 2000 has outpaced all but Southeast Asia. However, national and regional averages can actually make the data seem to represent realities which are more nuanced. When taking into account countries' internal variations of human development, the rankings can look different. For example, the United States would be ranked 16th instead of 3rd. This data goes to show that our preconceptions of development can often be quite skewed. Areas where many think there is no progress being made are actually improving quite drastically, whereas countries that are seen as well-off have distinct problems in ensuring better circumstances for their poorest citizens.
– Jake Simon
https://borgenproject.org/wp-content/uploads/logo.jpg
0
0
Borgen Project
https://borgenproject.org/wp-content/uploads/logo.jpg
Borgen Project
2013-03-16 13:04:35
2020-04-24 03:32:33
HDI Report 2013 Shows Progress