ILO Report Details Trends in Global Poverty Levels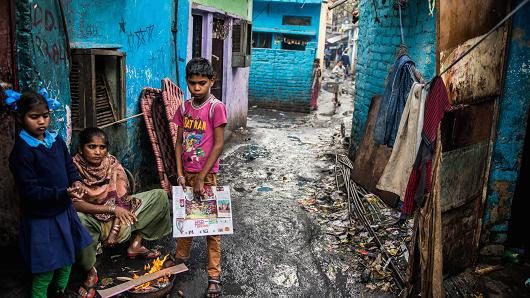 The International Labor Organization (ILO) released a new report, "World Employment and Social Outlook 2016 – Transforming Jobs to End Poverty", which assesses current global poverty levels. Director-General Guy Ryder states that poverty continues to remain frustratingly high in Africa and parts of Asia.
"For example, more than 40 percent of the African population continues to live in extreme poverty and some 64 percent in extreme or moderate poverty. Another element, which I think we have to pay attention to, is the fact that in the developed world, there has been an increase, an absolute increase in poverty, notably in this continent of Europe."
According to the ILO, this is most likely due to the high number of refugees seeking comfort in Europe in the past few years.
Income inequality is becoming a bigger problem in these regions, cautions Ryder. After years of decline, the disparity between the "haves" and the "have-nots" is currently expanding and slowly turning the wheel of the socioeconomic inequality cycle.
"In addition, the ability of growth to reduce poverty is compromised by the inequitable income distribution, showing that the rich are taking a disproportionately high share of the benefits of growth and, in a way, could be considered partly responsible for this perpetuation of poverty."
Despite Ryder's precautions however, global poverty levels are the lowest they have been in history. Vast advances have been made in China and a majority of Latin America.
ILO approximates the number of people living in extreme poverty in 107 emerging and developing countries, with incomes of less than $2 a day, has dropped from 50 percent in 1990 to roughly under 15 percent in 2012. If this trend continues, poverty levels should continue to drop in the future.
The ILO continues to work with the United Nations to eradicate poverty worldwide. A study performed by ILO revealed an estimated $10 trillion will be needed to eliminate extreme and moderate poverty all across the nations by 2030. ILO also stated, "Quality jobs that provide social protection must play a central role to end poverty."
– Rachel Hutchinson
https://borgenproject.org/wp-content/uploads/logo.jpg
0
0
Borgen Project
https://borgenproject.org/wp-content/uploads/logo.jpg
Borgen Project
2016-05-30 01:30:08
2020-06-19 16:36:44
ILO Report Details Trends in Global Poverty Levels