Theresa May Announces New Plan for Foreign Aid From the UK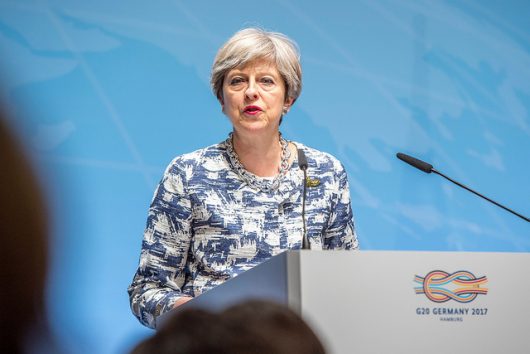 During the G20 conference in Hamburg, British prime minister Theresa May announced a new financial plan for aiding disaster-stricken countries, which included opening the London Centre for Global Disaster Planning. The center will be aimed at helping developing nations plan for times of crisis. If successful, this could eventually reduce the amount of money spent on emergency foreign aid from the U.K., create private jobs in affected countries and allow countries to respond more efficiently to various crises.
In addition to the proposed £30 million going towards creating the center, the British government will be investing £60 million into the African financial market. The overall goal of this plan is to create more stable insurance markets in foreign countries. While this immediate boost in foreign aid from the U.K. is in direct opposition to the Conservative Party's recent push to cut spending on foreign aid, the end result could greatly benefit Britain financially. As May stated, these changes will benefit the U.K. by "helping to build Britain's trading partners of the future, creating real alternatives to mass migration and enhancing our security."
The Centre for Global Disaster Planning will help prepare African countries for emergencies such as the ever-increasing problems with drought in East Africa. "This will reduce the need for expensive humanitarian aid, reassure private investors and help people rebuild their lives," stated a senior Downing Street official.
In addition to the investment into the Centre for Global Disaster Planning, the U.K. plans to allocate £60 million to Tanzania, £30 million to Somalia, £35 million to Ethiopia and £11.8 million to Rwanda. Each investment will target areas of financial weaknesses in its respective country. While there may not be immediate economic gains for the U.K. economy, results will ideally begin in poorer African countries and eventually result in new markets for Britain.
For example, the money going to Rwanda will hopefully boost private investment, which can alleviate poverty, create jobs and promote sustainable development. According to Sally Waples, head of the Department for International Development in Rwanda, the ultimate goal is a "self-financed exit" from poverty through private sector growth.
While this plan requires a great amount of initial investment, its success would reduce Africa's reliance on foreign aid from the U.K., strengthen its economy and create a multitude of new markets for trade. In preparing Africa for crises such as environmental disasters, this investment will reduce the amount of money spent on recovery in the long-term.
– Julia Morrison
Photo: Flickr
https://borgenproject.org/wp-content/uploads/logo.jpg
0
0
Borgen Project
https://borgenproject.org/wp-content/uploads/logo.jpg
Borgen Project
2017-07-24 07:30:14
2020-06-17 08:32:47
Theresa May Announces New Plan for Foreign Aid From the UK