Female Farmers Key to Fighting Hunger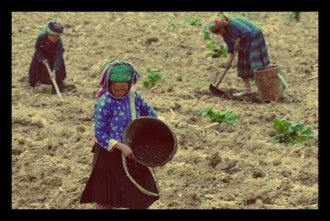 Female farmers working small plots of land to grow food may be a solution to ending world hunger according to international aid group CARE.  As leaders prepare talks for the Hunger Summit in London, advocates are reminding leaders to look to female farmers as a solution and answer to food insecurity. Around the world, 60 to 80 percent of food production in developing countries is grown by women. In stark contrast, only about 5 percent of training and resources ever get to these female farmers.
Julia Netwon-Howes, CARE Australia CEO, believes small-scale farmers are key in the fight against world hunger. Families around the world are being fed and sustained by women farming on small plots of land and their ability to increase the size and quality of their crops can lead to huge gains in fighting hunger. Studies show the world produces enough food for everyone, but the poor distribution and scarcity in some regions leads to millions still going hungry each day. To address the 1 in 8 still going to bed hungry, not only does production need to be addressed, but distribution must also be studied.
While action has been taken, small-scale farmers have been left out of the mainstream. With close to half of all agriculture being produced on small-scale farms, they must be taken into consideration as future plans are drawn to fight hunger. Assistance and government help must expand their focus to include both large and small-scale farms. This includes helping female farmers with better farming techniques, diversification of crops, and nutrition education. Farmers must be educated on the value of a variety of vegetables and food beyond the staple crops of sweet potato or maize grown every day. As they are educated and helped, hunger and malnutrition will continue to decline.
– Amanda Kloeppel
Source: ABC Radio Australia
https://borgenproject.org/wp-content/uploads/logo.jpg
0
0
Borgen Project
https://borgenproject.org/wp-content/uploads/logo.jpg
Borgen Project
2013-06-11 04:00:56
2020-06-26 21:24:11
Female Farmers Key to Fighting Hunger