FeelGood About Hunger Eradication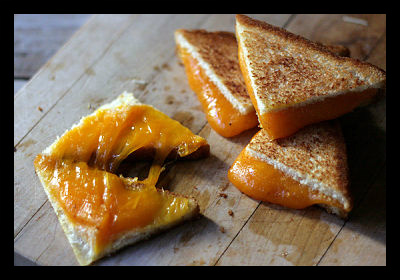 "We need to alter the way that we think about global poverty. Often we say that there are a billion mouths to feed… No, there are a billion human beings with an unimaginable potential that is waiting to be unleashed," shared Connor Spahn, Changemaker Ignitor at FeelGood.
FeelGood is a nonprofit youth movement working to end global hunger by 2030. With more than 25 chapters on campuses across the country, "FeelGood students engage in a multi-faceted training program, gaining the knowledge and skills to run a successful social enterprise—a grilled cheese deli—to raise money and build public support for a systemic approach to hunger eradication."
In 2004 FeelGood co-founders Kristin Walter and Talis Apud Hendricks from the University of Texas at Austin realized there were one billion people in the world who lacked a voice.
"This didn't feel good to them," Spahn explained, recollecting stories he has heard of the organization's origin. The idea for FeelGood was the brainchild of Kristin's future husband: start a pop-up grilled cheese stand on campus and start selling sandwiches. A simple idea to combat a colossal issue. The duo raised ten thousand dollars by the end of the year. There is no reason why this couldn't happen on every campus, they thought. So after graduation, they got FeelGood established as a 501(c)3 non-profit organization. Through word of mouth (at first) colleges began to open chapters.
"One thing we know for sure is that college students love grilled cheese sandwiches," Spahn reported.  "It's a simple point of nostalgia in American culture. Students should be aware of international issues because they are a part of an interconnected and interdependent world. Whether we notice it or not, we are dependent on the lives of people in other countries." But as Spahn pointed out "international issues are hard to grasp, they're more daunting and less digestible, but the point of a grilled cheese is to make it digestible," Spahn shared humorously.
"Our solution is two-fold: first, end chronic, persistent hunger through raising money for organizations that work on grassroots development and tackle gender inequality. Second, combat apathy in this country."
"As freshman, I was drawn to table because of stickers," Kristen Fu, fourth-year president of UC Berkeley's FeelGood chapter recollected. "My roommate really loved grilled cheese and she was there, so we decided to check it out. The tabler explained what seemed to us like a really simple and cool idea… sell grilled cheese, donate money, end world hunger." She was interested and became a general member, attending meetings and volunteering every Wednesday for two hours.
She became more involved every year, she continued to learn more about how they operated and their relationship with their non-profit partners, CHOICE Humanitarian and The Hunger Project. She was really inspired and encouraged that as students they could make such a big difference.
As a general member, Connor just had an hour shift. "It was such an easy way to get involved, any college student could do it. If an hour or two is a good level of commitment for you, then that's great; if you'd like to do more, then that's great too! Give whatever feels good to you."
Both Connor and Kristen spoke to the immense enrichment that their undergraduate involvement with FeelGood provided. Kristen attested to the practical skills she has learned, how to run her own business, speak to donors, articulate a philosophy, event planning, leadership, self-motivation and more. However, they were both in agreement about bigger takeaways as well, such as an understanding of social entrepreneurship, doing business for good and learning to be a global citizen.
"They're not just people you see or read about in commercials, not just a statistic but a person. That philosophy drives a lot of what we do. In order to become committed to ending global poverty, it has to be something that feels good."
— Leonna Spilman
Sources: Choice Humanitarian, FeelGood, The Hunger Project
Photo: Taste Spotting
https://borgenproject.org/wp-content/uploads/logo.jpg
0
0
Borgen Project
https://borgenproject.org/wp-content/uploads/logo.jpg
Borgen Project
2014-05-02 04:00:31
2020-07-25 00:47:41
FeelGood About Hunger Eradication