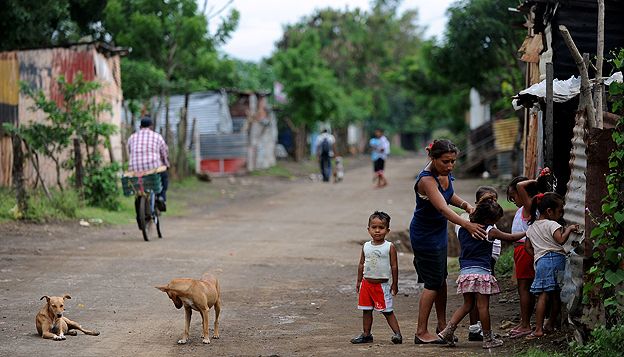 Dr. Mary Amanda Graham, PhD, is a Counseling Professor at Seattle University. As a certified counselor, she is passionate about working with people from all around the world. Here, she offers her perspective on poverty.
Can you describe your first experience with global poverty? My first experience working with global poverty was actually in the United States when I worked as a school counselor in a community that was mostly Hispanic. The families were mostly monolingual, so they only spoke Spanish. The kids came into the school system to learn English. That's when I first realized the difficulty that immigrants and refugees have when they come to this country. So, I did a lot of family work with the students and parents. I saw people who were in poverty and coming from different countries that didn't have any self-advocacy skills. They would be taken advantage of in their housing; slumlords would have them renting these shacks for a huge amount of money, but there would be no running water or sewer. Yet the slumlords would be charging tons of money and taking advantage of the fact that the immigrants were not bilingual and were poor.
After my first awareness of global poverty as it fits the United States, I got interested in understanding Latin America, how students grow up there and how that projects into the United States. Because I teach people to be school counselors, I want them to be good advocates for their students and understand what that looks like.
Six years ago, I had the opportunity to go to Nicaragua to do an immersion program. I saw the impact of poverty on women and children, which was really powerful. I learned about microeconomics and microfinancing, and how those programs help women. I got to see how women are accessing co-ops and how they are making a trade that is indigenous to their community and villages to feed their families. In Central America especially, there is a big barrier for education. It's hard for the kids to go to school because they have to help provide for their family by street vending.
Where are some of the places you have travelled and witnessed poverty? I've been to Nicaragua three times, both in urban and rural areas. Guatemala twice, mostly in the rural areas. In Guatemala, I worked in nutrition and parent education programs. I've been to Africa twice, where most of my services in education and counseling were in the slums of the city. I did have the opportunity to spend some time in rural Africa and visit schools there. I've also been to Bolivia, where I was in rural villages doing education and manual labor building latrines.
What do you try to accomplish when you are abroad? On every trip, I take a bunch of things that can help those in need. Proper nutrition is an issue in areas of poverty; people just don't have the resources or accessibility to good and clean water, but they give their kids what they can. My favorite project that I've done, and will continue to do, is with an organization and school called Hamomi, which is in Kenya. I like this organization for many reasons. For one, it's sustainable by locals. I think when we help people who are in global poverty, we can't have the attitude of going in as the great American hope and solving everyone's problems. That's a huge issue. Research says if you go in and build a school, no one is going to use it. Why? Because that's not what they needed; they needed clean water. The primary idea of working with people in international poverty is figuring out what they need. Not what I need to feel good, but asking them, what do you need to survive? Like, food, water, even a toothbrush! It's the basics that matter.
The last couple of years I've collected school supplies, which are always in high demand. Clothes and shoes too. The kids play soccer and basketball in their bare feet, on gravel road! Last time I was there, I partnered with a high school and gave the kids soccer and basketball shoes, which was really cool.
I also do counseling services. There's a trend of girls not going to high school because they don't really value that in women, so I'm really try to build self-confidence among them. I did a lot of social and emotional stuff with them; girls are rapped like that over there, it's a thing everywhere unfortunately, but they don't discuss sexual violence or sexual education all that much in their culture, so that's what I got to talk about at the school. After I left, one high school found a girl in the bathroom who was trying to give herself an abortion and bled to death. There's a lot of sexual activity in that age group, as there is everywhere, but they don't have access to birth control, there's a high rate of HIV, and there's always the risk of malaria. Then there's rape, no consent and family molestations. We covered all these topics, revisited them when I returned, and will continue to re-discuss them every time I go back.
As a professor, do you get to talk to students about helping students around the world? I try to integrate it into all my teachings. As you know, our demographics in the United States are rapidly changing. We have a huge population of Ethiopians and Kenyans in Seattle, so how is it that when you are an immigrant, refugee, a first generation American… How are we training our teachers, counselors, therapists, school leaders, people who work at Safeway, whoever, to understand the different cultures and way of being? How do we open the eyes of our service providers and helpers to understand the worldview of those from a different country, especially a developing country? I talk to my students about this all the time, not only about how we honor diversity and cultural diversity around us, but also globally. Everyone really needs a global perspective now. We have to be open and aware that people communicate different, operate different, prioritize and look at the world differently.
Are you planning to travel again? I'll be going back to Africa, for a month. I feel like part of the family that I've stayed with every time. It's not like a typical vacation, but I'm connected to the project, and I can't wait to go back.
– Kelsey Parrotte
Photo: BBC