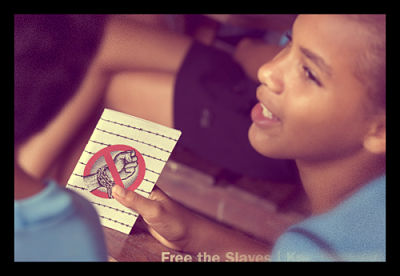 Ranked the third largest source of slaves in the Western Hemisphere behind Mexico and Colombia, Brazil's human trafficking situation is grim. In 2009, the Brazilian Federal Police estimated that 250,000 to 400,000 children are exploited by domestic prostitution. An estimated 75,000 Brazilian women and girls work as prostitutes throughout neighboring South American countries, the United States, and Europe–most of them are trafficked. Additionally, around 25,000 Brazilians, mainly rural workers, are enslaved domestically each year.
As Brazil emerges as an economic powerhouse, it's human trafficking situation only worsens. More migrants from neighboring countries and as far away as Asia are increasingly attracted to the promise of jobs in Brazil. Many of them are duped by traffickers into exploitative work situations. Preparations for the upcoming Olympic games and World Cup are significantly driving up labor needs and fueling exploitative labor practices. Just last month, an investigation into the expansion of Sao Paulo international airport discovered migrant workers in "slave-like" conditions.
Fortunately, this has not gone unnoticed by the Brazilian government. The government announced its first anti-trafficking plan in 2008 and introduced its second this year. The new plan includes tougher border controls, a revision of the penal code, and the training of 400 staff for victim services.
However, many are skeptical that the government's funding and efforts will be enough. Enter: the Slavery, No Way! campaign. Since its launch in 2004, the Slavery, No Way! campaign has trained and provided on-going support to more than 2,200 educators and community group leaders, ultimately reaching over 60,000 people. Together with partners Reporter Brasil, Pastoral Land Commission, and Free the Slaves, Slavery, No Way! works to "enable communities to prevent trafficking of workers into slavery."
In response to teachers' asking for innovative approaches to engage children on the issue, Slavery, No Way! created a board game to teach children about trafficking and how to address it. In order to win, players must utilize dialogue, strategic thinking, and reason to end slavery outbreaks. The game emphasizes cooperation over competition and entails three lines of action: preventing vulnerable populations of Brazilians from becoming enslaved, aiding those already enslaved, and combating the root causes of slavery. Characters in the game include justice officials, activists, slaves, and traffickers.
Reports of human trafficking in Brazil have risen 1,500% in 2013 alone, according to government figures. Such a dramatic rise in reporting suggests that campaigns like Slavery, No Way! are bearing fruit in confronting Brazil's stark slavery issue.
– Kelley Calkins
Sources: Free the Slaves, U.S. State Department, In Sight Crime, BBC, UNODC, Slavery, No Way!
https://borgenproject.org/wp-content/uploads/The_Borgen_Project_Logo_small.jpg
0
0
Borgen Project
https://borgenproject.org/wp-content/uploads/The_Borgen_Project_Logo_small.jpg
Borgen Project
2013-10-27 23:22:12
2017-10-03 12:24:20
Combating Brazil's Human Trafficking Landscape