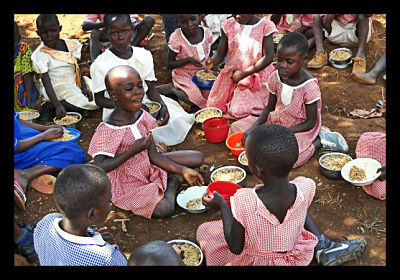 A recently released study has found that under nutrition in Uganda costs the country a staggering 5.6% of their GDP. This is the first in a series of Cost of Hunger in Africa studies, which will study Egypt, Ethiopia, and Swaziland next. The series is modeled after similar studies conducted in Latin America in recent years, and aims to reveal the economic disadvantages of under nutrition, as well as the health detriments.
This study, sponsored by the government of Uganda and the African Union Commission, used data from 2009 to estimate economic losses attributed to youth under nutrition. The effects of under nutrition are far-reaching, especially in the case of children. Stunting and chronic malnutrition resulting from under nutrition can negatively affect a child's long-term health, mental capacity, occupational skills, and lifespan.
It has been estimated that 3.8% of Uganda's potential workforce dies due to under nutrition, representing 943 million hours of work lost costing the country over US$300 million. While the economic losses are troubling, these figures reveal a much more horrifying truth about the long-term consequences of under nutrition. This percentage represents more than just potential workers, but real people who lost out on the chance to be parents and grandparents, spouses and friends, not just workers. However, the value of this study is that it gives us concrete, number-based reasons to take the fight against under nutrition seriously. People in power know that they can't help every person in need, and this study shows that adequate nutrition for all benefits the society as a whole.
The Prime Minister of Uganda, Amama Mbabazi, is taking notice of these findings, classifying them as "extremely worrying" and pledging to work against "unnecessary losses of human and economic potential."  Mbabazi also stressed the importance of nutrition-focused efforts, in addition to measures aimed at economic growth.
Figures such as this are troubling, but they are also empowering. Under nutrition is clearly a monumental problem that must be solved. It has far-reaching, long-term consequences that impact individuals and communities in severely negative ways. However, with Uganda's poverty rates steadily decreasing, there is hope on the horizon. Under nutrition and the problems associated with it could be a thing of the past for Uganda and its people. This would entail vastly improved living conditions, as well as a significant economic boost.
– Katie Fullerton
Source: World Food Programme Uganda, World Food Programme
Photo: WGLO
https://borgenproject.org/wp-content/uploads/The_Borgen_Project_Logo_small.jpg
0
0
Borgen Project
https://borgenproject.org/wp-content/uploads/The_Borgen_Project_Logo_small.jpg
Borgen Project
2013-07-01 04:18:39
2017-03-20 13:00:05
The Cost of Hunger in Uganda