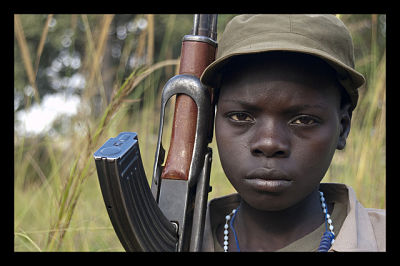 The Lord's Resistance Army is a rebel group led by Joseph Kony that was formed in 1989 in Northern Uganda to fight the Ugandan government. The LRA is widely regarded as one of the most violent and brutal groups in the world as it regularly, murders, rapes and plunders villages. At the very height of the group's power, 2 million people in northern Uganda were displaced.
The Lord's Resistance Army began as a religious movement led by Alice Lakwena. Lakwena claimed the Holy Spirit was leading her to overthrow the Ugandan government. At the time, popular resentment of the government helped to intensify support for her Holy Spirit Movement. However, soon the government was able to depose of Lakwena and push back the rebel group into the bush.
However, the movement did not end with Lakwena. A man named Joseph Kony, who claimed to be Lakwena's cousin, revitalized the group and unleashed a new reign of terror. Kony rechristened the group as the Lord's Resistance Army. Claiming to follow the 10 commandments, Kony's LRA gained a cult-like following and pursued its original goal of overthrowing the Ugandan government. However, Kony quickly began to lose support for his rebel group so he was forced to resort to abducting thousands of children to serve as soldiers.
The LRA has become notorious for utilizing child soldiers. Rebels often disguise themselves as Ugandan military forces and attack villagers. The LRA has slaughtered thousands. Others they mutilate to serve as warnings to the government and villages. Any captives, many of which are children, are violently indoctrinated and forced into slavery as soldiers, cooks, or sex slaves. To keep captives from escaping, the LRA often forces them to kill their own family members. Those who do not do so are killed off.
Today the LRA continues to dwindle in size due to military pressure and defection.
The UN Security Council has condemned the LRA repeatedly. In 2005, the International Criminal Court also issued arrest warrants for the LRA's top leaders for crimes against humanity, including Joseph Kony. Many attempts have been made to reach a peace agreement between the LRA and the Ugandan government. However, Joseph Kony has avoided such meetings each time. Thus today the Ugandan government continues to battle the LRA. In October 2011, the 100 U.S. military advisors from Army Special Forces were deployed to Uganda with the intention of  providing training and assistance to fight the LRA.
Currently, the LRA remains one of the most elusive and least understood rebel groups in the world. Yet its crimes hardly go unnoticed. However, with increasing foreign pressure and foreign aid, the LRA faces a bleaker future.
– Grace Zhao
Sources: LRA Crisis tracker, FAS, Department of State, Enough Project
Photo: TCON