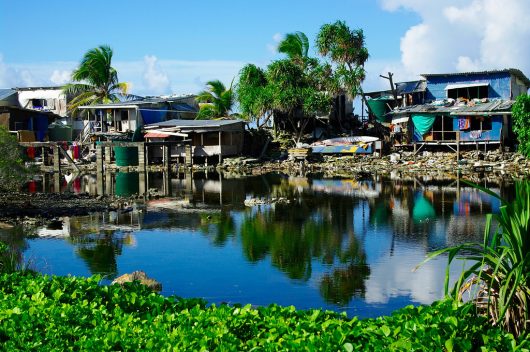 Tuvalu is a tiny Pacific nation with a population of about 10,000 people. While the population may be small, the people of Tuvalu face significant threats, with the foremost being climate change. Tuvalu sits only two meters above sea level and some experts think the group of islands could eventually vanish if sea levels keep rising. It is one of the most vulnerable countries in the world when it comes to being affected by climate change.
Here are some ideas on how to help people in Tuvalu:
Encourage your representatives to support cutting carbon dioxide emissions.
Climate change is already beginning to affect Tuvalu. While emergency response to flooding and other natural disasters is important, the most important long-term solution is for countries all over the world to make swift cuts in emissions, until the world reaches what scientists say is a safe level of carbon dioxide in the atmosphere – 350 parts per million.
Donate water or other necessary supplies in the event of an emergency.
When Tuvalu has experienced flooding or other weather disasters in the past, several humanitarian organizations have responded promptly. However, climate change also exacerbates droughts. One of the biggest problems that can occur during a drought is a lack of safe, clean water. Many on the island will have to ration water. A household of six to nine people is allotted just 40 liters of water per day. This means that basic water needs are only just being met in these conditions.
Express the importance of keeping the U.S. in the Paris climate accord to the White House.
In 2015, Enele Spoaga, the Prime Minister of Tuvalu, asked European leaders to help save Tuvalu ahead of the negotiations for the Paris climate accord. Spoaga warned that a climate that was even 2 degrees celsius warmer would mean that Tuvalu would eventually disappear under water. Later that year, leaders from around the world agreed to take steps to limit future global warming. However, President Trump has recently said he wants to take the U.S. out of the Paris climate accord. Since the U.S. is a large, highly industrialized and influential country, the effects of it leaving the Paris climate accord would be devastating. If you would like to help protect Tuvalu from the effects of severe climate change, consider calling the White House and expressing your concern about this issue.
Tuvalu is in a uniquely frightening position, since its very existence is under threat from climate change. However, as people realize the dangers of climate change, more and more will hopefully seek to learn about how to get involved to help people struggling in Tuvalu.
– Brock Hall
Photo: Flickr
https://borgenproject.org/wp-content/uploads/logo.jpg
0
0
Kim Thelwell
https://borgenproject.org/wp-content/uploads/logo.jpg
Kim Thelwell
2017-09-29 01:30:50
2020-07-17 08:14:58
How to Help People in Tuvalu