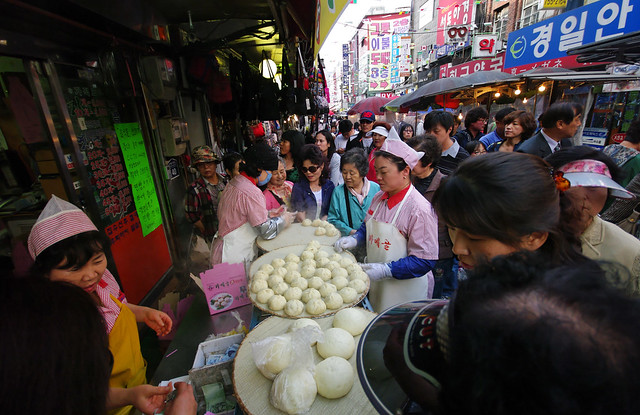 Since the Korean War, South Korea has emerged as one of the more politically and economically free nations in the world. Home to companies like Samsung and Hyundai, South Korea's economy has been growing for years. While South Korea has become a model for other countries in southeastern Asia, the country is also facing new challenges that a strong economy alone cannot fix. Here is a list of the top 10 facts about living conditions in South Korea.
Top 10 Facts about Living Conditions in South Korea
Life Expectancy: The life expectancy rate is one of the highest in the world. South Koreans, on average, have a life expectancy range that goes into the mid-80s for men and into the 90s for women. This means the country has one of the highest life expectancies in the world, a benefit to having free, universal healthcare coverage. Koreans' diets consist of steam-cooked rice, vegetables and meat, constituting a healthy meal and contributing to a long and healthy life.
Credit Access: South Korea is among the world's top countries with high credit card usage. South Koreans averaged almost 130 credit card transactions per person in 2011, according to the Bank of Korea. Additionally, it is illegal for businesses to refuse credit cards, even for smaller purchases. This has created a bustling tourism and shopping industry in South Korea.
High Suicide Rate: The suicide rate in South Korea is among the highest in the world. It is believed that the high suicide rate is due to the long work hours and stress in the workplace. Another factor contributing to these high rates is the level of poverty and loneliness among the elderly. The country has taken preventative measures to combat such a tragic statistic. Korean legislature continues to update and improve the Mental Health Act. The Act for the Prevention of Suicide and the Creation of Culture of Respect for Life went into effect in 2011, which sets forth policies to help prevent suicides.
Youth Unemployment: The country's economy is strong, but it is slowly declining. With such large companies like Samsung, LG and Hyundai in South Korea, many smaller businesses are having trouble cementing themselves into Korean society. These larger companies then offer less than ideal contracts to smaller companies who must accept them or risk going out of business. This is disabling young people's ability to find jobs with a smaller market of opportunities. More than 11 percent of young people between the ages of 15 and 29 are unable to find jobs. President Moon Jae-in promises to combat the unemployment of young people during his presidency.
Universal Healthcare: South Korea has adopted an affordable, universal healthcare system. It was first introduced in 1989. As mentioned above, this may be a key factor in the increase in life expectancy in South Korea. The country also created plans to help its citizens treat certain forms of dementia. It is projected that the percentage of South Koreans age 65 or older will increase to 40 percent by the year 2060.
Plans to Boost the Economy: South Korea has decreased its infrastructure spending, but is increasing its minimum wage. President Moon has planned to drastically increase South Korea's spending budget by around $420 billion in 2019. The goal is to increase the number of jobs available and to raise the minimum wage; however, these programs will also create budget cuts for infrastructure spending.
Climate Change: The country is taking action on climate change. In an effort to learn more about climate change, the Korean National Institute of Environmental Research began working with the Environmental Protection Agency (EPA), the U.S. National Aeronautics and Space Administration (NASA) and other organizations in 2016. These organizations have been focusing on monitoring air quality throughout East Asia. Citizens of South Korea are affected by smog and concentrations of particulate matter that lead to respiratory illnesses. South Korean air is twice as polluted as some other countries.
Low Violence Rates: South Korea has low rates of terrorism and violence. South Koreans have great respect for the rule of law, according to data from the World Bank. Citizens also have a great deal of respect for the courts and rules of society. It is possible that the impeachment of former President Park Geun-Hye in 2017 also increased confidence in the South Korean legal system.
Expensive Housing: The already expensive housing prices in South Korea are increasing even more. The nation's capital, Seoul, is the most expensive city to live in South Korea. It's twice as expensive to live there than anywhere else in the country. During the past year, housing prices have risen 23 percent in Seoul and 12.5 percent outside of the city. To encourage young people to live in the city, the government offered 70,000 homes to newlyweds in December 2018.
Long Work Weeks: South Koreans work more than the majority of other countries. In 2018, South Korea changed the maximum limit that employees may work from 68 hours to 52 per week. This change was put into effect to improve health conditions and keep laborers from becoming overworked. This bill limited the work week of South Koreans to 40 hours per week with 12 hours of optional overtime at 50 to 100 percent normal pay rate. As the last fact on this list of top 10 facts about living conditions in South Korea, it shows South Korea is prioritizing mental health and the well-being of its citizens.
South Korean has made great advancements in the quality of living conditions, but there is still room for improvement. Many younger Koreans believe that President Moon's policies will lead to more benefits and a fairer society. These top 10 facts about living conditions in South Korea outline a promising future, but making mental health and financial stability a priority is necessary for the country's citizens.
– Jodie Ann Filenius
https://borgenproject.org/wp-content/uploads/logo.jpg
0
0
Kim Thelwell
https://borgenproject.org/wp-content/uploads/logo.jpg
Kim Thelwell
2019-04-14 01:30:54
2019-12-02 15:44:57
Top 10 Facts about Living Conditions in South Korea