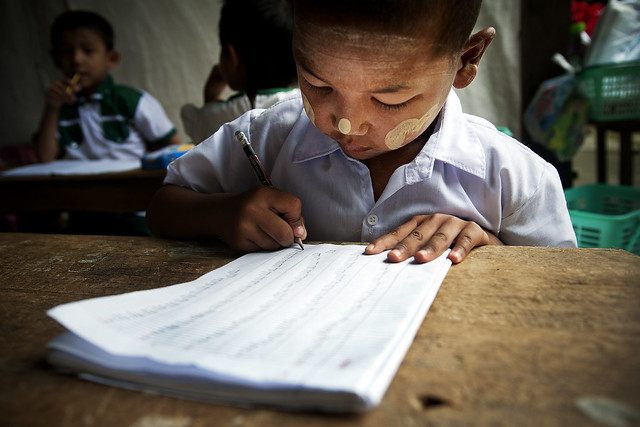 Child literacy is often taken for granted, but around the world, millions are growing up without the ability to read or write. What many do not realize is that literacy has a direct effect on poverty. According to a study conducted by the United Nations Scientific and Cultural Organization, there are links between illiteracy and higher unemployment. The study also found that illiterate adults are more susceptible to illnesses, exploitation, lower pay, and human rights abuses.
The inability to read or write is a self-perpetuating cycle because it traps illiterate communities in poverty without the tools to help themselves out. These conditions make illiterate communities more at risk of violence and conflict. In fact, 40 percent of illiterate children live in countries with active conflicts. The issue prompted the United Nations to launch the International Literacy Decade in 2003, which has taught around 90 million people to read and write. Despite this effort, there are still millions of vulnerable children around the world that need assistance to escape illiteracy and its negative consequences. There are many organizations dedicated to improving child literacy rates and these are just three NGOs working hard to bring education to the world.
3 NGOs Improving Child Literacy Across the Globe
Room to Read: Room to Read is an NGO founded in 1998 that began its work in Nepal. Room to Read's vision is to improve literacy and access to literature in low-income communities, with a special focus on gender equality in education. The NGO has now spread all over Southeast Asia and Africa and has benefited around 16.6 million children worldwide. The NGO has distributed 24.1 million books, trained 15,285 librarians and teachers, and has partnered with 30,337 schools to implement its literacy program. In addition to the literacy program, Room to Read also has a specific program for girl's education which aims to close the gender gap in classrooms of developing countries. Room to Read has received many commendations, most recently receiving a perfect "four stars" rating from Charity Navigator for the thirteenth year in a row.
World Literacy Foundation: The World Literacy Foundation was founded in 2003 with the guiding mission to provide books, tutoring and literacy tools to children in communities that otherwise would not have access to these resources. WLF began transporting books to Africa in 2005 and shortly after developed low-cost eBooks that could be distributed in local languages. In 2016 WLF designed and implemented "Sun Books", which are solar powered tablets that bring educational books to classrooms in Uganda without electricity or the internet. In 2014, WLF ran the first World Literary Summit to increase cooperation with other literacy organizations. Since then, the summit has been held in 2016, 2018 and is scheduled again for 2020. So far, WLF has been active in more than 93 countries, has provided access to literacy resources to 250,101 children, and last year alone reached more than 350,000 children and adolescents.
Pratham: Pratham was founded in 1995 in Mumbai, India with the goal of having "every child in school and learning well." Pratham is one of the largest NGOs in India, operating in 21 out of 29 Indian states and with volunteers in 300,000 Indian villages. Its mission is to improve literacy and the quality of education in India by supplementing government efforts and supporting teachers and parents. Pratham's lead program, Read India, was launched in 2007 and has reached more than 30 million children. The program also provided training for around 61,000 teachers to improve literacy all across the country. Pratham has been a strong advocate for education reform to improve basic competencies like reading, writing, and arithmetic in Indian school children. Several state governments use Pratham's Annual Status of Education Reports to plan yearly education programs. In 2013 Pratham was named one of the top 100 NGOs in The Global Journal for their pioneering work in primary and literacy education in India.
There are still 124 million children and adolescents that are not enrolled in school and one in four children in developing countries is illiterate. Tackling child and adult illiteracy is no easy task but it is NGOs like Room to Read, WLF and Pratham that are making big strides in closing the literacy gap. By providing training and resources to the neediest communities, these three NGOs provide disadvantaged children the fundamental tools needed to escape poverty.
– Isabel Fernandez
Photo: Flickr
https://borgenproject.org/wp-content/uploads/logo.jpg
0
0
Kim Thelwell
https://borgenproject.org/wp-content/uploads/logo.jpg
Kim Thelwell
2019-06-22 08:32:13
2019-06-22 08:32:13
3 NGOs Improving Child Literacy Across the Globe