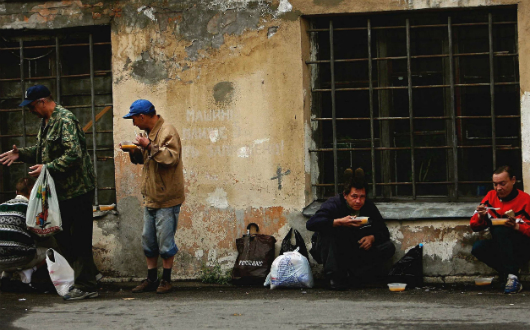 Poverty in Russia has been a prevailing issue for years now, but a host of causes has finally brought it to its worst point yet.
According to a recent report by Rosstat, a Russian state statistics service, the amount of people living below the poverty line in Russia hit 22.9 million earlier this year. Russia's population was roughly 144 million at the end of 2014.
Russia's poverty crisis has worsened steadily over the past few years due primarily to embargos and resulting inflation. As a result of Russia's involvement in the Ukraine crisis, many countries embargoed food imports to Moscow. This caused inflation in the country to rise to 16.9%, its highest point in 13 years.
"Unfortunately, predictions are coming true: According to official statistics, the number of poor people has reached 22 million," Deputy Prime Minister Olga Golodets told a Russian television station.
Additional Western sanctions have caused a steep decline in the price of oil, Russia's largest export, further damaging the country's economy and job market. In 2014, the amount of social service agency employees in Russia was cut by 6.5%. Experts are predicting that far more job cuts will follow, affecting 33 different regions of the country over the next few years.
Poverty in Russia is also proving to be immensely damaging to education. According to the Accounts Chamber report, 9,500 towns with populations between 300 and 1,500 had no preschool facilities, and one-third of these towns had no public transportation.
Between this year and 2018, 5.6% of Russia's preschools are expected to close, as well as 6% of primary and secondary schools, 14.7% of orphanages and 16.1% of vocational schools.
As conditions in Russia continue to worsen, work must continue to be done to improve the quality of life within the country.
– Alexander Jones
Sources: World Socialist Web Site, International Business Times, Moscow Times
Photo: Business Insider
https://borgenproject.org/wp-content/uploads/logo.jpg
0
0
Borgen Project
https://borgenproject.org/wp-content/uploads/logo.jpg
Borgen Project
2015-07-22 15:32:37
2020-07-08 13:50:14
Poverty in Russia Has Reached a Breaking Point