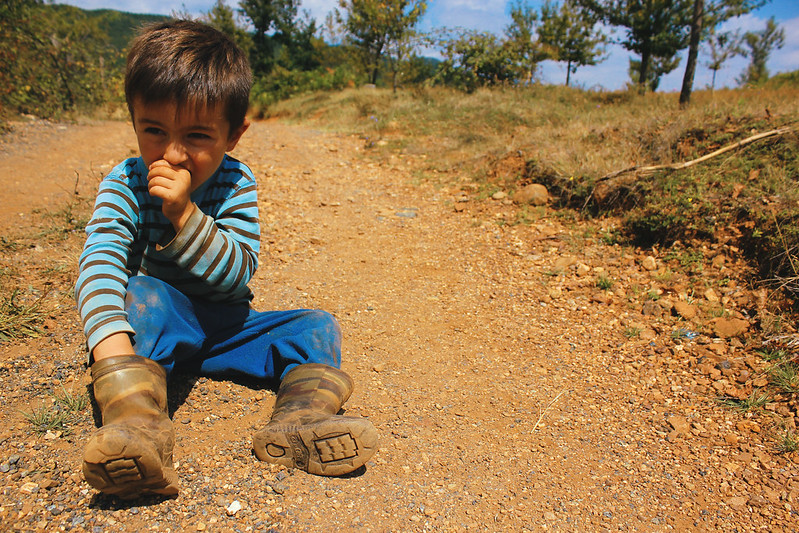 Located in the Balkan peninsula and nestled between the Adriatic Sea and Kosovo, Macedonia and Greece is the small country of Albania. Following World War II, the nation was a communist state until its transition to democracy succeeding the 1992 presidential election. The transition from a communist state to a democratic republic disrupted economic growth and the ways of life for many Albanian people. The country's long-standing policy of isolationism contributed to Albania's slow development, enduring poverty and lack of economic and political stability.
The Albanian Refugee Crisis
In the late 1990s, Albania became host to hundreds of thousands of people seeking asylum from violence and political unrest in the neighboring country of Kosovo. The rapid influx of refugees resulted in many Albanian regions becoming overcrowded and under-resourced. The country, already struggling to support its own people, barely coped with the increasingly dire refugee situation. During this time, Albania was recognized as one of the poorest countries in Europe. The percentage of the population living below the poverty line was estimated to be between 30% and 50%. Crime rates were high and social unrest pervaded.
Albania applied for membership in the European Union in 2009 and joined NATO later that same year. In response, the European Union invested $11 million dollars in emergency aid for Albanians, refugees from Kosovo and surrounding countries. Organizations such as the International Committee of the Red Cross and the United Nations Children's Fund further worked to improve conditions for all people affected by the crisis.
The effects of political upheavals and the refugee crisis impacted many aspects of life for Albanians. Specifically affected were Albania's healthcare system and the state of maternal and child health in Albania.
Healthcare in Albania
Historically, Albanians have had limited access to healthcare and health services. Prior to World War II, Albania had few foreign-trained physicians and a small number of hospitals and health clinics based predominantly in urban regions. When the country shifted to a communist state, the Soviet model of health was adapted. Health institutions and hospitals were erected but the quality of medical care was poor.
Investments in the health sector decreased in the 1970s. Recurring political upheavals throughout the 1990s and early 2000s resulted in the destruction of numerous healthcare facilities and the loss of valuable medical equipment. Immunization programs halted and the quality of basic sanitation services decreased drastically in rural and urban areas of Albania.
Maternal and Child Health in Albania
As a result of inadequate health services, health outcomes are poor in Albania. Mortality rates for communicable, infectious diseases are high. Cardiovascular disease is the leading cause of death in the region. Albania has also faced ongoing outbreaks of cholera, tuberculosis and hepatitis.
Health outcomes for women and children in Albania are similarly poor. Albania's maternal and infant mortality rates are high. Analysis of mortality trends in Albania between 1989 and 1993 revealed that the infant mortality rate decreased from 9.8% in 1970 to 2.8% in 1990. Infant mortality rates subsequently began to rise steadily following the 1992 transition to democracy.
In rural areas, infant mortality rates are twice as high as those in urban regions of the country. Maternal mortality rates in Albania are four times as high as those in other parts of Europe as a result of poor prenatal care and abortion-related complications. Family planning practices are uncommon, as well as forms of birth control alternative to abortion.
Addressing the Issue
However, Albania has shown significant progress in improving its healthcare system as well as the state of maternal and child health outcomes. Albania's government has shown initiative in restructuring the existing healthcare system to focus on addressing the leading causes of death and disease. The country has also adopted a progressive approach to improving the standards for the protection of women and children's right to healthcare.
Albania has focused on increasing the accessibility and quality of neonatal and pediatric primary health care in an effort to reduce maternal and infant mortality rates. The nation has implemented additional staffing within women's and children's counseling centers and health centers. Albania's government has partnered with the Ministry of Health to create innovative national health policies that address the needs of the healthcare system, health professionals and Albania's population. Additional funding and resources have also been allocated to the nation's health sector.
Further action taken by the Albanian government to improve the state of maternal and child health in Albania includes:
Albania signed and ratified the United Nations' Convention on the Rights of the Child, a treaty outlining the cultural and health rights of children.
Albania has begun decentralizing the healthcare system and is ensuring that each village has access to updated and equipped health centers.
Albania's government has adopted a new system of family planning that has improved women's access to necessary reproductive services.
Albania implemented the National Action Plan for Children that increases access to essential health care for mothers and children, works to prevent malnutrition and weight-related disorders, stems the spread of preventable infectious diseases and reduces infection rates of HIV/AIDS and other sexually transmitted diseases.
Moving Forward Amid the COVID-19 Pandemic
The current COVID-19 pandemic further puts pressure on Albania's government and budget to continue ongoing efforts to improve the nation's healthcare system. International partners as well as Albania's government continue to work to improve the country's healthcare system and advocate for the promotion of the rights of women and children. In doing so, the health outcomes of Albanian women and children will progress and the quality of life for all of Albania's population will better in the years to come.
– Alana Castle
Photo: Flickr
https://borgenproject.org/wp-content/uploads/logo.jpg
0
0
Kim Thelwell
https://borgenproject.org/wp-content/uploads/logo.jpg
Kim Thelwell
2020-12-16 07:30:21
2020-12-11 08:52:30
Progress for Maternal and Child Health Outcomes in Albania