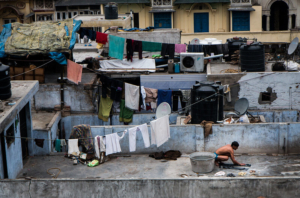 India is one of the fastest-growing economies, with a population of more than 1.2 billion people, 30.7 million of whom live in the capital city of Delhi. People frequently view Delhi as an exceptionally wealthy area due to its abundance of posh communities like Vasant Vihar, Jor Bagh and Green Park. However, within India, in its own capital city, people are battling to survive without bare necessities. In Delhi, impoverished people are isolated from the rich. Opulent retail centers and cafés surround slums and some slums are wedged between rich neighborhoods. Poverty in Delhi, concealed in the cracks of luxury, is vastly different from the overall picture of the city as a whole.
Delhi's Dichotomy
Delhi is one of India's most economically prosperous cities with an estimated GDP of approximately $293.6 billion. The typical Delhi resident "earns three times more than the average Indian." Within one of the most affluent communities in Delhi, Vasant Vihar, however, is Kusumpur Pahari, a quagmire of poverty and home to 10,000 slums. Its inhabitants cram themselves into close quarters, deprived of the necessary elements of a stable life. Only miles away is Delhi's biggest shopping mall and its 102-meter-high civic center. This lopsided situation leaves slum residents working tirelessly to survive as servants to the rich residents of Vasant Vihar. Poverty in Delhi is visible within the city's slums.
Delhi's Slums: Kusumpur Pahari and Madanpur Khadar
Kusumpur Pahari is home to mostly migrants from "UP, Bihar, Orissa and Assam." Slum-dwellers labor as drivers, gardeners and housekeepers for their wealthy neighbors. Kusumpur Pahari residents often live in one-room shacks that have no running water. However, circumstances have substantially advanced in the previous decade as a result of hard work by a women's association. In 2016, there was no flowing water in Kusumpur Pahari, but owing to the efforts of the women 's association, a truck now brings freshwater to the neighborhood every several days.
Madanpur Khadar is another slum in the suburbs of Delhi. With narrow streets and a sewage line that runs right through it, these slums' residents suffer.  In 2000, the government chose it as the area for relocating vast numbers of slum families from other locations of the city. The bulk of the people that live in Madanpur Khadar collect and sell rags. Inhabitants suffer from polluted drinking water and sanitation issues. Though they experience less than desirable conditions, NGOs have taken notice of this area. Madanpur Khadar's women and HIV-affected dwellers are receiving help from these organizations, as reported by So City. Additionally, the slum is now on the map after 15 female residents collaborated with local nonprofit organizations in 2018 to help their community benefit from increased internet visibility of their location.
Sangam Vihar, Kathputli Colony and Seemapuri Slum
Sangam Vihar is a slum community that houses people moving from surrounding states, primarily Uttar Pradesh and Bihar, according to So City. It has no freshwater access and a lack of community toilets, which leads to exposed defecation, producing sanitary concerns in the area. Poverty in Delhi and water shortages have transformed Sangam Vihar into a refuge for thieves and brought rise to gangs whose members are willing to murder for water. Fights and killings are commonplace in Sangam Vihar, where water is limited.
Kathputli Colony is the most interesting slum in Delhi with illusionists, puppet masters and many different types of entertainers living in the area, according to So City. People recognize Kathputli Colony for its colorful buildings and roads bustling with street performers. Due to the prevalence of poverty in Delhi, India tries to hide its slums. However, whenever it wants to demonstrate its cultural prowess, India showcases this particular slum. Though a sluggish source of money and transformation, slum walk tours through Kathputli Colony appear to be creating more financial opportunities for the dwellers. Slum walk tours are helping to fund a school and provide the residents with a quality of better life.
Seemapuri slum is home to around "800 of the locality's 1,700-odd residents." The slum-dwellers battle to secure basic sanitation, water and electricity because the area is an unofficial community that is cut off from the city's essential utilities. According to So City, Seemapuri serves as an example of poverty in Delhi with exposed sewers where women fetch contaminated drinking water and reside in mud dwellings where it is normal for seven to eight people to occupy only one small room.
Addressing the Problems of the Slums
Dr. Kiran Martin, the founder of the Asha India organization, is a well-known name in the domain of poverty reduction. Asha's programs aid more than 700,000 people in more than 91 Delhi slum colonies. Martin's efforts have earned her the Padma Shri, one of the country's highest civilian honors. The Asha India organization dedicates its time to reducing poverty in Delhi, particularly within the slums. It aims to empower residents, provide better health care, increase educational opportunities and make environmental improvements. In 2018, the organization celebrated its 30th birthday and continues to push toward its goals today.
With the ongoing efforts of organizations, hope is on the horizon for the divide between the wealthy and the impoverished in Delhi to one day come to a close.
– Tiffany Lewallyn
Photo: Flickr
https://borgenproject.org/wp-content/uploads/logo.jpg
0
0
Jennifer Philipp
https://borgenproject.org/wp-content/uploads/logo.jpg
Jennifer Philipp
2022-01-22 01:30:05
2022-01-20 03:01:59
Poverty in Delhi: Rich Delhi, Poor Delhi