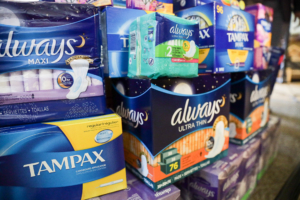 The monthly cost of purchasing menstrual sanitary products is not a small amount for females worldwide. "Period Poverty" refers to the inability to afford access to pads, tampons, or liners to manage menstrual bleeding. A campaign in China, is working on addressing period poverty for its girls and women. However, it still remains a women's rights issue globally.
The General Problem
The International Federation of Gynecology and Obstetrics (FIGO) reports that around 10% of young women around the world are now unable to afford period protection. FIGO also found that 12% of women have to improvise with devices that are potentially ineffective and unsafe. According to UNICEF, there are more than 500 million females that lack a proper place to change their sanitary protection during their period. Period poverty causes long-term impacts of health and hygiene for girls and women. Time management, the chance of receiving education and employment are also affected by period poverty. All of these factors influence a woman's lifelong development and wellbeing.
Period Poverty in China
The situation of period poverty in China is not much different. Many women and young girls, especially in rural areas, cannot afford feminine hygiene products. Instead of sanitary pads, impoverished women have to use toilet paper or old cloth. Any available yet unsafe materials on hand — even bark for some women in extreme poverty — are substituted to get through the period. Unfortunately, the lack of basic menstrual knowledge and the common menstruation taboo in China only worsen the situation. It is difficult and embarrassing to practice optimal hygiene with dignity in China. As a result, many girls in rural China skip classes or even leave school once they start menstruating.
Campaign for a lower tampon tax
In recent years, the Chinese public is growing more aware of period poverty in China. They are calling for more affordable sanitary products. Additionally, the public advocates for more humanitarian public health policies that take women's biological needs into accounts. As of 2020, the Chinese government regulates a 13% sales tax on feminine sanitary products. That is 4% higher than the 9% tax for essential daily necessities such as grain, water and contraceptives.
Many other countries, including India and Malaysia, have either exempted or reduced the tax on sanitary products. They have done so for the sake of gender equality. In response, a couple of online campaigns emerged in China in the past few years. The campaigns appeal for a lower tampon tax in the country.
The "Stand by Her" Project
Before the national public health policy can ameliorate, some philanthropists and social organizations have jumped to the cause. They have stood up first to help the low-income women in underdeveloped regions. So far, the "Stand by Her" is one of the most well-known and large-scale projects that deal with period poverty in China.
Liang Yu Stacey, a 24-year-old Chinese feminist activist, initiated the "Reassurance for Sisters Fighting the Virus" online campaign in early 2020. She aimed to raise money to provide feminine sanitary products for the health care workers fighting against COVID-19. The project then extended to a broader scale and evolved into "Stand by Her."
"Stand by Her" is a voluntary foundation that coordinates donation, procurement and distribution of hygiene products to under-age girls in impoverished provinces. The foundation regularly sends sanitary pads to women around China. In addition, the project also hands out brochures and holds lectures in middle schools to popularize menstruation and sex education. In the first phase of 2020-2021, the team continues to plan to help more than 6,000 girls from 33 schools across China. Within 3 days of opening the donation portals, "Stand by Her" raised 368,700 RMB (54,500 USD).
The online conversations, campaigns and donations display some positive signals in the area of menstruation. Feminine hygiene is gradually breaking away from the conventional social taboo. Reducing tax on women's menstrual products would be a win for women's rights in China.
– Jingyan Zhang
Photo: Flickr
https://borgenproject.org/wp-content/uploads/The_Borgen_Project_Logo_small.jpg
0
0
Melissa Barrientos
https://borgenproject.org/wp-content/uploads/The_Borgen_Project_Logo_small.jpg
Melissa Barrientos
2020-12-15 01:30:03
2020-12-10 09:55:24
Period Poverty in China and Current Campaigns