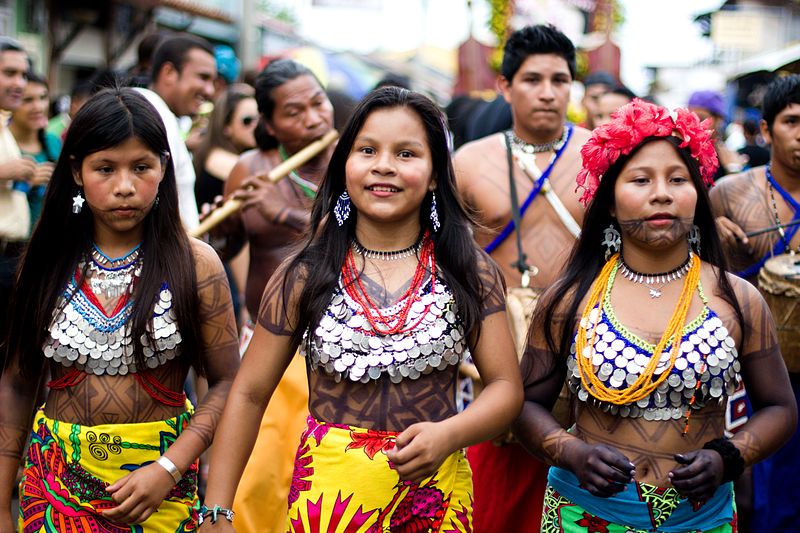 Situated as the southernmost country in Central America between the Atlantic and Pacific Oceans, Panama has a population of nearly four million people across 29,000 square miles and a terrain which includes rainforests, mountains, beaches, wetlands and pasture land. The capital, Panama City, has a population of under half a million. Panama's strongest industries include import/export, banking and tourism. It has enjoyed economic stability and growth, which can translate to good health and long life expectancy when residents can access education, health care, water and sanitation resources equitably. Here are the 10 facts about life expectancy in Panama.
10 Facts About Life Expectancy in Panama
The first of the 10 facts about life expectancy in Panama is that currently, the average life expectancy of a man in Panama is 76.1 and 81.9 for a woman. This averages to 78.9 for the entire population. Panama ranks 58th worldwide for life expectancy.
In Panama, the leading causes of death are chronic, noncommunicable conditions such as circulatory diseases (diabetes and heart disease). Diet, high blood pressure or smoking can cause these. Panama has taken action by implementing the World Health Organization's Framework Convention on Tobacco Control and passing legislation guaranteeing smoke-free environments. The United Nations suggests dietary guidelines for healthy eating and recently added recommendations for children under 2 years of age.
Traffic accidents in Panama are on the rise. The World Health Organization reports a road traffic death rate of 14.3 per 100,000 in 2016, while that number was only 10 per 100,000 in 2013 with 386 actual deaths. While the law in Panama requires seatbelt use, hazardous conditions due to lack of road maintenance, poor signage and overly congested highways are causes of this increase in accidents. Investment in roads and highway infrastructure could lower the number of deaths.
The WHO reports that homicides in Panama are decreasing. In 2010, there were 23.4 homicides per year per 100,000 and in 2015 that number went down to 18.7. More than six times as many men suffer homicide in Panama than women (32.3 men per 100,000 compared to 4.9 women per 100,000). Young people between ages 15 and 29 are the most frequent targets of homicide (40.5 per 100,000). Strong laws are in place to combat violence in relation to firearms and alcohol and the WHO reports effective enforcement of laws against intimate partner violence and elder abuse. Panama could make improvements in the areas of enforcement of sexual violence and child maltreatment laws.
Because of Panama's tropical climate and wet, forested areas, mosquito-transmitted illnesses such as malaria, dengue and yellow fever pose a risk for Panamanians. Death is more likely in vulnerable people, such as infants. When new outbreaks arise, such as with the Zika virus, the WHO monitors transmission and infections closely in case they become widespread or pose a risk to travelers in the region. People can transmit the Zika virus sexually and it can also pass from mother to fetus. Microcephaly, a severe birth defect linked to Zika, poses a risk to the fetus of pregnant women, though death is rare. The WHO reports one death of a premature infant. Another disease that has limited impact in Panama is the hantavirus (linked to contact with rodents). The WHO reports approximately 100 cases with only four total deaths occurring. There is no treatment or vaccine for the hantavirus. Recommendations state to control the rodent population to prevent it.
Panama saw 1,968 new cases of tuberculosis in 2017 (co-occurring with HIV in 90 percent of patients). TB and HIV are amongst the leading causes of premature death in Panama. People with HIV have more compromised immune systems, leaving them more vulnerable to contracting TB. Panama spends $1.9 million each year treating and combating TB and HIV. Relapse of patients and drug-resistance pose particular challenges. Tuberculosis affects twice as many males as women, and the greatest incidence is among people ages 25-34 years.
Mortality in young children has steadily declined in recent years. Deaths of children under 5 in 1990 were 27.2 per 1,000 live births, and in 2017, 17.2.  Deaths of children under 1 per year in 1990 were 20.9 per 1,000 live births, and in 2017, 13.4. Between 2007 and 2017, neonatal disorders dropped from number one to number three as a cause of premature death, and congenital defects dropped from number four to number six. These statistics are a result of a dramatic improvement in maternal and infant care for non-indigenous rural Panamanian women through a program called Health Protection for Vulnerable Populations, instituted in collaboration with the World Bank and the Minister of Health.
The education of girls in Panama is important to life expectancy and maternal health. UNICEF reports that girls with no education receive 30 percent less antenatal care compared with those who have received a secondary education. The antenatal care is beneficial to learn about life-threatening risks in childbirth such as eclampsia, as well as immunization against tetanus and HIV testing and medication to prevent perinatal transmission of HIV. UNICEF calls for increased equity in antenatal and postnatal care particularly for indigenous women and infants in Panama.
The upcoming Burunga Wastewater Management Project will address the serious health risks posed by untreated wastewater. The World Bank cites the lack of Water Supply and Sanitation (WSS) as a major risk to public health. Currently, people dump untreated water into several rivers in the areas of Arraijan and La Chorrera. Despite economic growth in Panama, impoverished people will continue to be vulnerable to reduced life expectancy because of waterborne illnesses such as giardiasis and cholera, especially without updates to infrastructure in rural areas with attention to access to clean water and sanitation.
In 2018, The World Bank approved an $80 million project in Panama called the Comprehensive National Plan for the Indigenous Peoples of Panama. This project has the aim of improving health, education, water and sanitation for indigenous people who are more vulnerable to natural disasters, for example. Built into the plan is a goal to develop the cultural relevance of programs. In order for life expectancy measures to continue to improve, Panama must equitably address the needs of indigenous as well as rural groups.
These 10 facts about life expectancy in Panama show that the country faces ongoing challenges in health care, but measures of life expectancy are hopeful and improving. With follow through on projects to assist the indigenous and rural people, and ongoing investment in infrastructure, Panama should continue to rise in the ranks amongst the world's flourishing, healthy and stable nations.
– Susan Niz
Photo: Wikipedia Commons

https://borgenproject.org/wp-content/uploads/The_Borgen_Project_Logo_small.jpg
0
0
Jennifer Philipp
https://borgenproject.org/wp-content/uploads/The_Borgen_Project_Logo_small.jpg
Jennifer Philipp
2019-09-25 20:27:29
2019-11-26 14:37:31
10 Facts About Life Expectancy in Panama