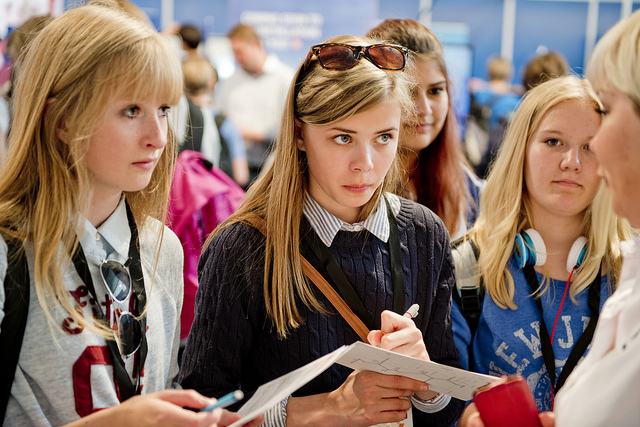 Ranked twenty-first on the list of leading education systems in performance, graduation rates, and funding, Norway is among the many countries in Northern Europe that places education as a priority for all youth regardless of their financial or ethnic background. In 2016, Norway provided higher education to more than 200,000 students, more than tripling the student count from 2010. Education in Norway is highly valued, however, student drop-out rates are a continuing issue.
Education in Norway is implemented in three parts: primary school, lower secondary school and upper secondary school, the first two of which are mandatory to complete. Students must go to school between the ages of six and 16, but after graduation from lower secondary school, students are given the option to either pursue upper secondary school or discontinue education to enter the job market. Upper secondary school is a three-year program that incorporates either general or vocational studies.
As of 2015, the completion rate of the 64,000 students enrolled in upper secondary school starting in 2010 was 59 percent. Norwegian schools are tuition-free, and Norway continually supports equality in education. So the question is: why do students drop out of upper secondary education?
The answer to this question may have little to do with Norway's philosophy on education. In fact, it could lie in the background of each student. One major factor influencing the decision to finish schooling is grade point average in lower secondary school. If a student is presented with poorer grades in early education, their likelihood of receiving good grades or seeing their higher education through is low. While 59 percent of the student population in 2015 graduated within the given time span of their schooling, 7 percent failed final exams and 15 percent dropped out before or during their final year.
Obtaining a quality lower secondary education in Norway is an essential factor to the success in upper secondary school. Since lower secondary school occurs during the development ages of 10 to 16, it is imperative for teachers to provide students with engaging and effective curriculum specifically tailored to that age group. The focus is on basic knowledge concepts, such as reading and math, then upper secondary school is a more advanced approach that offers career-specific courses, like business or nursing.
New ideas like the Transition Project focus on low-performing students in lower secondary school to increase their reading, writing and numeracy competencies. This project provides students with follow-up workshops, homework assistance and surveys for teachers to complete and keep track of their lower-scoring students.
Reforms like the Transition Project provide students and teachers alike with cohesive learning. Teachers are able to lecture with more clarity and students are able to grasp the curriculum with more ease. Those students needing more assistance have outlets to spend more time on specific concepts. As a result, students are less likely to fall behind in their classes and will gain a better overall understanding of the curriculum based on the increase in involvement and participation with their teachers.
With an unemployment rate of 7.5 percent for students with education below upper secondary school and only 3.4 percent for students with upper secondary education, it is vital to emphasize the importance of finishing school. Norway has seen the underlying problem, and its efforts in decreasing dropout rates in upper secondary school are just beginning.
– Brianna Summ
Photo: Flickr
https://borgenproject.org/wp-content/uploads/logo.jpg
0
0
Borgen Project
https://borgenproject.org/wp-content/uploads/logo.jpg
Borgen Project
2017-10-29 01:30:36
2019-12-31 13:04:39
Addressing Dropout Rates for Education in Norway