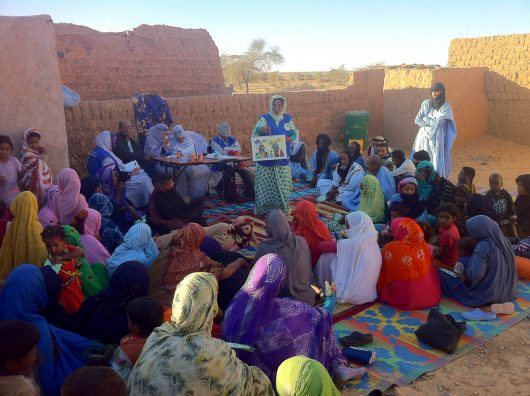 Terrorism, corruption, slavery and poverty. These are some of the significant issues that plague most of the African continent. Some of the lowest education and literacy rates can be found in Africa. One of the primary ways a country can help its citizens and begin to climb out of poverty is by providing education. Despite enormous political and economic challenges, one nation is doing this: Mauritania.
Mauritania is a country of about 3.7 million people in the northwest corner of the continent, sharing borders with places such as Mali and Algeria. Given its geographical location and proximity to unstable countries, Mauritania faces egregious challenges both outside its borders and within them. This has undoubtedly made the pursuit of education expansion and overall poverty alleviation measures difficult to implement effectively.
The overall literacy rate in the country suffered a decline between 2000 and 2015. This is clearly a result of failed policies by the government to provide education for its people. When compared to its neighbors, Mauritania spends the least amount of GDP per pupil. The fact that its neighbors suffer from similar if not worse conditions than Mauritania makes this even more absurd.
However, in 2014, the Global Partnership for Education (GPE), a nonprofit fund dedicated to improving education systems in developing countries, began funding a new program in Mauritania. This new program is designated the Mauritania Basic Education Sector Support Project.
There has been a myriad of successes since implementation, most notably the 101 teachers certified under the Teacher Training Initiative curricula and the construction of 10 middle schools in rural areas. This project is continuing to provide training for administrative support staff as well as distributing pedagogical kits to students and schools.
In 2017, The Underrepresented Nations and Peoples Organization teamed up with the Association of Volunteers Against Illiteracy to improve education in Mauritania. This partnership sought to target specifically the Haratin minority by constructing two schools in the city of Nouakchott.
The project was a success, having provided education to over 70 women and children in just under four months. In addition to the school buildings themselves, the Education Spells Freedom project provided a bathroom facility, rugs and school supplies in order to improve the experience of attendees.
The challenges facing Mauritania will not be overcome quickly or easily. Education in Mauritania is a key starting point in the process of improving the lives of Mauritanians. The Education Spells Freedom project and the GPE program in the country should serve as a guide for future nonprofit organization initiatives regarding education in Mauritania and beyond.
– Daniel Cavins
Photo: Flickr
https://borgenproject.org/wp-content/uploads/logo.jpg
0
0
Amy
https://borgenproject.org/wp-content/uploads/logo.jpg
Amy
2017-10-23 01:30:09
2020-04-04 08:11:57
A Few Successes: Education in Mauritania