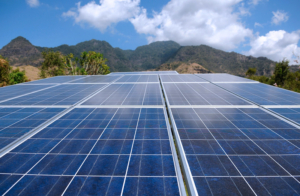 Sunlight is one of Africa's vastest resources, and that isn't any different in the small country of Mauritania. Home to over 4.5 million people, the West African country averages only seven days of rainfall each year. Moreover, in Mauritania, there is limited access to electricity, with only around 1.5 million people having this privilege, leaving more than two-thirds of the country without a reliable source of power. To address this issue and harness the abundant sunlight, several successful projects focused on solar energy have been proposed and implemented.
Klima Solar Power Project
Klima is a Germany-based mobile app that allows users to monitor and manage their own climate footprint. The app allows users to make donations to support international efforts aiming to offset humans' environmental impact on the Earth.  The app highlighted various efforts, including a successful solar farm project in Mauritania announced in July 2020. Covering an area of 600,000 square meters, this solar farm now supplies 15% of the country's energy requirements. Klima's statement revealed that more than 100,000 individuals now have access to electricity due to this solar farm, a significant improvement for those who were previously without power. This achievement is particularly notable given that many in the country lack access to electricity. Although the company hasn't released an official update on the solar farm since its initial announcement, it has continued to raise money for it through blog posts, earning the title of "energy project to watch."
Toujounine Solar Plant
The Toujounine project was the first major low-carbon-power project to use solar energy in Mauritania. Completed in 2017 and sponsored by Solemec, Mauritania's national electric company, the project is an impressive $53 million solar farm boasting 53,000 solar panels. Aera, a French company supporting carbon footprint-lowering projects, stated in an archived release that the plant effectively offsets 57,000 metric tonnes of CO2 annually – equivalent to the emissions from burning more than 6.4 million gallons of gasoline. By harnessing solar power instead of non-renewable energy sources, Mauritania can potentially experience improved air and water quality, leading to longer life expectancies and enhanced overall health. Ongoing success is evident, as a 2022 research paper validates the plant's performance across various weather conditions.
Looking to the Future
While Mauritania has not outlined significant solar energy plans, the nation is actively pursuing other forms of renewable energy. Project AMAN, among the largest green energy initiatives in Africa, is focused on harnessing green hydrogen as a renewable energy source. Additionally, the Boulenouar Wind Farm, considerably larger than the nation's previous largest wind farm, is in line to become Mauritania's largest wind farm.
The potential of solar energy in Mauritania extends to enhancing the lives of impoverished communities by providing electricity access to those previously without it. This move not only addresses the energy gap but also improves raw material quality by curbing the use of pollutants. Mauritania's continued investment in renewable energy signifies a crucial stride toward both citizen well-being and planetary health.
– Aidan Johnstone
Photo: Flickr
https://borgenproject.org/wp-content/uploads/logo.jpg
0
0
Lynsey Alexander
https://borgenproject.org/wp-content/uploads/logo.jpg
Lynsey Alexander
2023-08-07 07:30:34
2023-08-07 01:13:58
Solar Energy in Mauritania