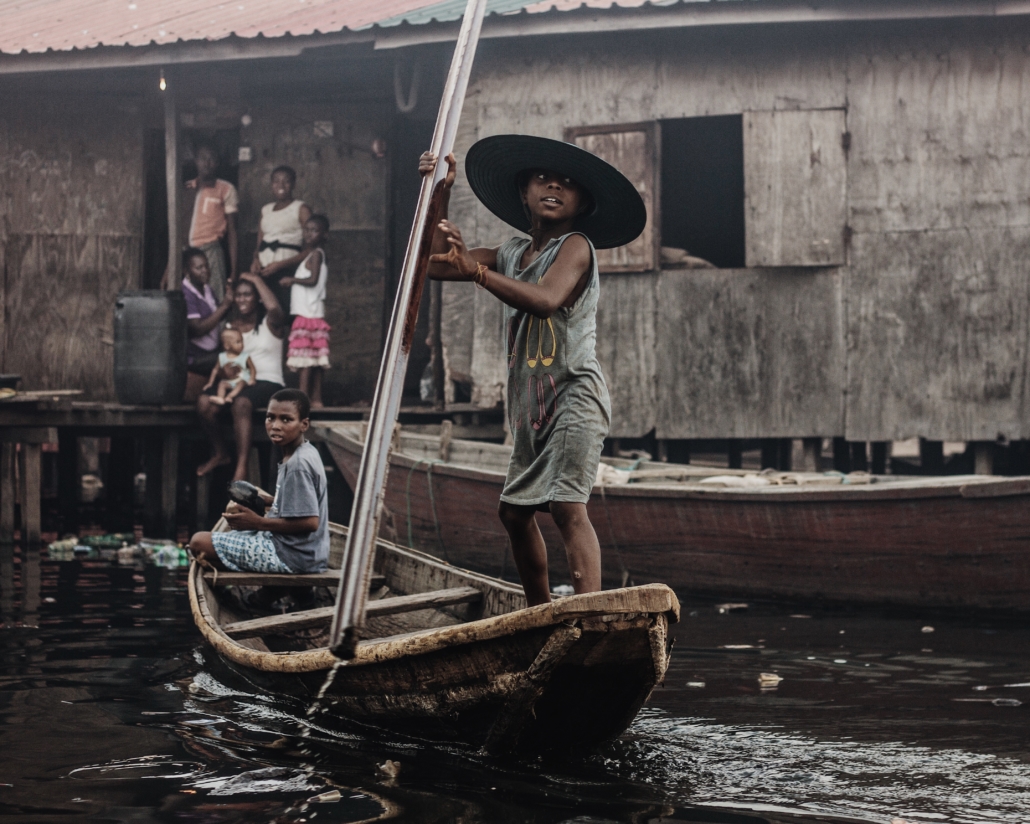 Although most greenhouse gas emissions come from the global north, Africa will soon face some of the most severe impacts of the climate crisis. The country of Nigeria is in a uniquely vulnerable position. Home to around 200 million people, Nigeria is the most populous country in Africa, and 40% of Nigerians live below the national poverty line. Climate change and poverty can act in a vicious cycle. Impoverished people are often unable to adapt to increased temperatures or rising sea levels due to a lack of resources and mobility. When people lose their homes and livelihoods to climate change, they can face even greater poverty, especially when children lose access to education. This is also true for poverty and climate change in Nigeria.
Nigeria is located on the Gulf of Guinea, just north of the equator. Due to its size and geographical location, Nigeria is at risk for a great variety of climate-related challenges. Its northern regions, which border the Sahara, are experiencing increasing rates of desertification. Its low-lying coastal areas, meanwhile, are facing rising sea levels and flooding. Despite these challenges, the Nigerian government has set admirable sustainability goals. Furthermore, local farmers are using innovative techniques to adapt to climate change.
Urban Areas
Nigeria's capital city, Lagos, is a rapidly growing economic center. It is home to between 15 and 26 million people and one-third of Nigeria's GDP. Lagos is surrounded by massive slums which house half of the urban population. These slums, some of which are entirely composed of floating shacks and canoes, are at high risk of flooding as sea levels rise. Rising sea levels, another result of climate change in Nigeria, can cause erosion and contaminate freshwater. This damages Nigeria's fishing industry, which feeds and employs many impoverished people. Inland areas of Lagos are also being inundated with refugees from coastal areas which have already been destroyed by flooding. As slum populations increase, living conditions become even more unhealthy and dangerous.
Agriculture
Many climate refugees in urban Nigeria come from inland, where conditions have made farming impossible for many poor families. Approximately 70% of Nigerians, many of whom live below the poverty line, rely on agriculture as their primary source of income. In 2018, thousands of people left the agricultural regions of northern Nigeria. They were displaced by droughts, food insecurity and "climate-related conflict." According to a report from World Bank, the results of climate change in Nigeria such as rising temperatures and "erratic rainfall" could lead to a "20 to 30% reduction in crop yields." Dust storms are also becoming more common and can significantly deplete topsoil layers. This can be crushing as these topsoil layers are crucial for successful farming. In addition to direct loss of income, poor agricultural yields will lead to food shortages. This harms Nigeria's most vulnerable populations in both urban and rural areas.
What People Can Do
Although the climate crisis is already significantly impacting impoverished Nigerians, there are still possibilities for climate change mitigation and adaptation. A World Bank report called "Toward Climate-Resilient Development in Nigeria" outlines cost-effective strategies focused on increasing renewable energy generation and reducing agricultural and industrial pollution. One possible adaptation to climate change in Nigeria is a practice called "agroforestry." This is where farmers plant trees around their crops and animal pastures, protecting them from increased temperatures and reducing topsoil depletion. This farm layout mimics a more natural landscape and can provide farmers with additional resources such as firewood. Additionally, it helps sequester carbon dioxide from the atmosphere. Agroforestry is gaining traction as an adaptation to climate change in Nigeria, and it could prove very useful in the future.
– Anneke Taylor
Photo: Wikimedia
https://borgenproject.org/wp-content/uploads/logo.jpg
0
0
Kim Thelwell
https://borgenproject.org/wp-content/uploads/logo.jpg
Kim Thelwell
2021-07-09 12:54:58
2021-08-11 04:19:20
Poverty and Climate Change in Nigeria