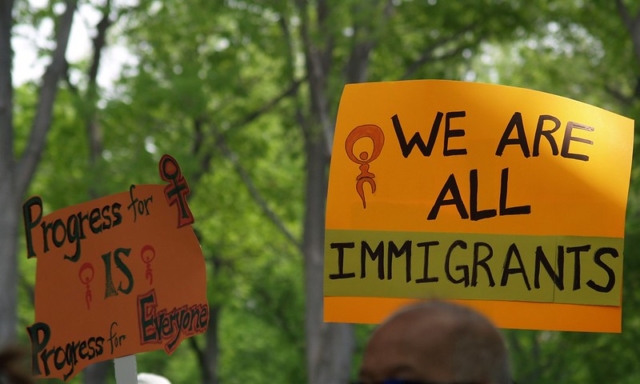 When she was 15 years old and nine months pregnant, Karla fled an abusive home in Honduras and sought shelter in the United States. After being referred to the Houston, Texas office of Kids in Need of Defense, Karla received pro bono legal assistance and was granted asylum. Kids in Need of Defense (KIND) helps migrant children like Karla find a new life in safety. Karla's story is not the norm though. Many migrant children are either turned away at the border or kept for weeks in facilities along the U.S.-Mexico border. Non-governmental organizations like KIND help by providing children with pro bono legal representation in immigration court, allowing children like Karla to find a safe home. KIND also works within countries of origin, fighting to alleviate the sources of suffering that cause children like Karla to migrate in the first place.
The Immigration Crisis
Conversations about immigration in the United States often focus on statistics and stereotypes rather than the actual people making the journey or the organizations working to help them. Organizations like KIND fight to make the discussions surrounding immigration about aid, safety and policy-oriented solutions rather than focusing on stopping immigration altogether.
Today, immigration is front and center in political debates. The Biden administration is working to right the wrongs of the previous presidential administrations. As detailed in a recent New York Times article, emergency facilities set up by the Biden administration have led to modest improvements in conditions for migrant children.
As Maria M. Odom, the senior vice president for legal programs at Kids in Need of Defense, clarifies, "These facilities were designed and ramped up with the goal of achieving prompt reunification with parents, sponsors and legal guardians." But, a shortage of case managers for placing migrant children with family members and other sponsors leads to some children spending weeks, even months, in emergency facilities.
Reasons for Migration
While people migrate for a variety of reasons, migrants at the U.S.-Mexico border are primarily fleeing political and social instability, violence, crime, injustice and poverty. According to KIND, in countries like Honduras and Guatemala, more than half the population lives below the poverty line. In the western part of Guatemala, about a third of the population experiences extreme poverty. "Civil war, internal conflicts and natural disasters" have also weakened institutional structures in these nations. These dire circumstances prompt citizens to leave in search of better living conditions.
Kids in Need of Defense (KIND)
Founded in 2008, Kids in Need of Defense is a U.S.-based NGO that provides legal aid and counsel to unaccompanied and separated migrant children once they are in the U.S. Through its offices in Mexico and its programs in Central America, KIND works with legal partners to address the root causes of migration. Overall, KIND works to "protect children during migration and connect repatriated children with essential services."
Kids in Need of Defense also works with "partners in Belgium, France, Greece, Ireland and the United Kingdom." Its European initiatives provide unaccompanied children in Europe with free legal support. In fact, in 2020, KIND launched KIND Mexico and opened its first offices outside of the U.S. This was prompted by the challenges of the COVID-19 pandemic and the anti-immigration policies of the Trump administration.
KIND's 2020 Impact
Provided services to 1,411 detained children
Worked with migrant children in 78 countries across the world
Assisted 194 children at the U.S.-Mexico border
Achieved a 95% success rate in legal cases
KIND works directly with policymakers to protect the rights of migrant children by advocating for durable policy solutions to child migration. Every decision it makes is grounded in the best interests of the child in order to ensure that no child is ever forced to migrate due to poverty or violence.
– Thomas McCall
Photo: Flickr
https://borgenproject.org/wp-content/uploads/logo.jpg
0
0
Yuki
https://borgenproject.org/wp-content/uploads/logo.jpg
Yuki
2021-07-05 01:31:24
2021-06-30 07:28:42
How Kids in Need of Defense Helps Migrant Children