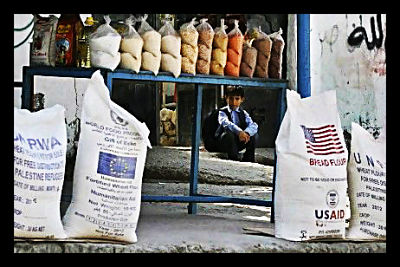 With global economic hegemony, many believe it is the inherent responsibility of the United States to project its wealth out unto those who are less fortunate. As the purported "City upon the Hill", the United States has employed various forms of foreign aid aimed at bringing up less fortunate global actors. As we will see, foreign aid takes on many forms and is directed towards not only the poorer nations. More often than not, foreign aid is funneled to promote American interests, rather than humanitarian ones. The earliest incantation of foreign aid, the 1948 Marshall Plan, is largely responsible for bringing Europe out of the destruction of World War II, yet its inspiration was to stem the spread of communism throughout Europe. Today, foreign aid has proven to be a valuable arrow in our diplomatic quiver in both humanitarian and geopolitical senses. The following list represents the top three recipients of U.S. foreign aid in 2012, and, perhaps, provides some insight into the varying purposive goals of U.S. foreign aid.
1. Israel ($3.075 Billion)
If you pay any attention whatsoever to American politics, it is no secret that the subject of Israel is a weighty one when it comes to U.S. international and domestic political considerations. Moreover, Israel's yearly position as the top recipient of U.S foreign aid sheds light on the nature of foreign aid. Israel is by no means a developing nation. In fact, the private Israeli sector is spearheading a new age of scientific and technological advancements. Without any doubt, the lion's share of this aid goes towards beefing up defense and military resources. For example, Israel's Iron Dome technology, aimed at intercepting incoming missiles, comes with an exceedingly high price tag. The position of Israel on this list sheds light on the subject and nature of USAID. It is clear that the abundance of aid towards Israel serves as a means of protecting US interests in the Middle East and against increasingly aggressive posturing from Russia and Iran.
2. Afghanistan ($2.327 Billion)
Not surprisingly, Afghanistan has come in second on this list. After years of war attempting to stem the tide of terrorism in the region, the U.S. has directed foreign aid to the region to fund both the Afghan military as well as for the purposes of General Chrystal's Counterinsurgency (COIN) ideology. After funding the Afghan military and police, the remaining aid is funneled towards aspects of soft power. Through building schools and hospitals, the United States hopes to win the hearts and minds of the Afghan people, which in turn, is hoped to be effective in preventing further insurgency.
3. Pakistan ($2.102 Billion)
Aid channeled towards Pakistan represents a unique form of Foreign Aid. It is no secret that Pakistan is one of the most potentially volatile regions on the planet. With a seemingly never ending dispute with India and rising Islamic extremism, the prospect of instability is one that must be avoided at all costs. Unlike Afghanistan, Pakistan has nuclear weapons; the prospect of these falling into the hands of the wrong people is something the global community cannot allow. With this understanding the brunt of USAID to Pakistan has gone towards building up a governmental infrastructure suited to international cooperation. With the ever-present possibility of corruption, foreign aid is the proverbial "carrot", as opposed to the "stick" levied against Afghanistan. After sustained efforts to battle extremism, it is entirely against US foreign interests for the Taliban to gain a political foothold in Pakistan. Through creating an infrastructure not suitable to their political ideology, foreign aid dollars can go much further than they would battling symptoms of terrorism and extremism.
– Thomas van der List
Sources: Washington Post, USAID, ABC News
Photo: The National
https://borgenproject.org/wp-content/uploads/The_Borgen_Project_Logo_small.jpg
0
0
Borgen Project
https://borgenproject.org/wp-content/uploads/The_Borgen_Project_Logo_small.jpg
Borgen Project
2013-08-16 07:54:20
2017-11-30 10:46:26
Top Three Recipients of U.S. Foreign Aid in 2012