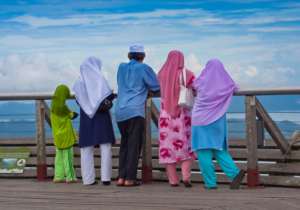 Malaysia saw its first confirmed case of COVID-19 on January 24, 2020. The Malaysian government implemented the Movement Control Order (MCO or PKP) around two months later in response. This mandate restricted travel, work, assembly and established quarantine measures jeopardizing the financial integrity of Malaysian households. Here is some information about the impact of COVID-19 on poverty in Malaysia as well as the country as a whole.
The World on Pause
For fully vaccinated individuals, the MCO ended in November 2021. However, under the mandate, conditional and variable ordinances ultimately played a part in the impact of COVID-19 on poverty in Malaysia.
Working in multiple phases, the MCO developed into the Conditional Movement Control Order (CMCO/PKPB), Recovery Movement Control Order (RMCO/PKPP) and the National Recovery Plan (NRP/PPN). These restrictions prevented movement between states, travel to and from Malaysia and mass gatherings in addition to the closure of schools, government and private premises except those considered essential. Those who violated the MCO were at risk of receiving fines or facing jail time.
Hurting Those Already Struggling the Most
Three-quarters of the Malaysian population live in urban areas, with the majority of individuals falling into the 15-64 age group. A four-part research study that UNICEF and UNFPA conducted titled "Families on the Edge" found that a typical Malaysian household has an average of 5.5 members.
The head of these households are mostly married Malay males around 46 years old with low educational attainment. These workers face a high risk of unemployment, pay cuts or other stresses to household income as they were in jeopardy before the pandemic.
Reports have indicated that a 5% increase in employment occurred between March 2020 and June 2021. Despite the rise, a third of those employed before the crisis experienced work disruptions and 27% faced income reduction.
The World Bank found that around 65% of jobs in Malaysia cannot occur remotely even after modifying them so that they were in an online format. This is because approximately 51% of jobs require close physical proximity. With the MCO restrictions, these jobs were most vulnerable with one-fourth of heads of households experiencing unemployment during this time.
The Impact of COVID-19 on Food and Education
The impact of COVID-19 on poverty in Malaysia consequently affected access to food and quality of education. With little to no income, households spent around 84% less on education and 4% less on food between December 2019 and June 2020. While expenditure on food reduced, approximately 30% reduced food intake itself to cope with financial difficulties.
While employees adjusted to remote working, children needed to transition to online learning. Two-fifths of children do not have access to the required equipment (such as a computer) or internet connection to resume their education.
Closures have also prevented children from impoverished families from accessing meals provided at school-distributed supplemental food programs. This food insecurity pushed households to adopt cheaper and less healthy diets, further threatening the country's child malnutrition crisis.
A Citizen's Surrender
Some low-income residents resorted to waving white flags from their flats during the government-mandated lockdown to express the financial stress they were experiencing. This Bendera Putih, or "White Flag" movement emerged to help families ask for assistance. The white cloth outside their homes would encourage others to donate food.
In response, three computer science students from Multimedia University Cyberjaya urgently developed and released the "Sambal SOS" app within the same month the White Flag Movement gained traction. More than 7,000 users registered on the site just two days after its launch.
Here, users could digitally and anonymously report that they needed help. They then could connect with other users ready and able to provide aid.
An Economic Recovery Plan
Prime minister Tan Sri Muhyiddin Yassin announced the Pelan Jana Semula Ekonomi Negara (PENJANA), also known as the Economic Recovery Plan, in June of 2020. This stimulus package totaled RM35 billion (more than $7 billion) allocated to 40 initiatives organized into "three key thrusts:"
Empower People
Propel Businesses
Stimulate the Economy
Some initiatives to empower people included a wage subsidy program, social protection for the gig economy workforce and the internet for education and productivity. PENJANA funded entrepreneurship financing to propel businesses while supporting small enterprises through e-commerce and tourism financing. Initiatives to stimulate the economy included a campaign to buy Malaysian products and financial relief for those working in the agriculture/food sector.

Although poverty rates are still higher than before the COVID-19 pandemic, poverty levels have decreased by 16% between May 2020 and March 2021. Government assistance increased overall average household income since 2019, including disabled-headed households.
Households rely on savings, government and Zakat assistance for financial support as the labor market recovers. While PENJANA has proven to help boost the economy temporarily, many families still do not receive registered business-related aid and do not have social protection or insurance. The impact of COVID-19 on poverty in Malaysia emphasized that social protection assistance still needs to improve its scope of coverage to help the urban poor rebuild post-crisis.
– Aishah French
Photo: Flickr
https://borgenproject.org/wp-content/uploads/logo.jpg
0
0
Jennifer Philipp
https://borgenproject.org/wp-content/uploads/logo.jpg
Jennifer Philipp
2022-08-29 07:30:47
2022-08-26 11:15:06
Impact of COVID-19 on Poverty in Malaysia