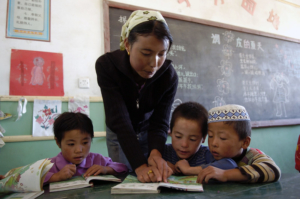 Since 1980, the number of people living in absolute poverty in China has been reduced by 800 million. This has coincided with China's sustained GDP growth for the past two decades and 8% growth in 2021. However, for China's poverty reduction to continue, the country needs to address issues of income inequality and lack of human capital development.
How Poverty is Measured
In 2020 President Xi Xing Ping announced the "complete victory" of his campaign to eliminate poverty. He claimed this because everyone had met the Chinese government's extreme poverty line of $2.25 income per day. But, according to the World Bank, an "upper-middle income" country such as China should use a poverty line of $5.50 a day. At this level, China's poverty reduction still appears to have performed well, reducing the percentage of people below the poverty line of $5.50 from 98% in 1990 to 17% in 2018.
However, China now has a similar income per capita that the United States had in the 1960s when the US set its poverty line at $21.70 (adjusting for inflation). At this poverty line, the US had less than one-quarter of its population in poverty. In comparison, applying a poverty line of $21.20 to China today over 80% of the population would be in poverty. This suggests that China is far from achieving "complete victory" in eliminating poverty.
Problems with Mass Mobilization
During the last decade, China relocated hundreds of millions of rural people to new city apartment complexes. Unfortunately, many cannot afford the city rents. In fact, the current Chinese Premier Li Keqiang recently noted that 600 million people cannot afford city rents. As the New York Times reported in 2013, "Top-down efforts to quickly transform entire societies have often come to grief, and urbanization has already proven one of the most wrenching changes in China's 35 years of economic transition."
Lack of Investment in Human Capital Development
Also, according to a 2021 article in The Diplomat, China has not invested in rural education and human capital development. That means 70% of the workforce, which engages in labor-intensive, low-skill jobs, hasn't completed high school and therefore does not qualify for the retraining programs for better-paying jobs. In 2019, the manufacturing and construction sectors employed 46% of the migrant workforce. In addition to low wages, migrant workers encounter more safety hazards.  They also lack access to social welfare protections available to others.
RCEF: Pushing Quality Rural Education
To continue to reduce poverty, China will need to address these issues. This will become increasingly important as China loses its comparative advantage in the labor-intensive markets, and increasingly relies on innovation to drive growth. Luckily, non-government organizations such as the Rural China Education Foundation (RCEF) are taking the lead to promote quality education in rural areas of China. The RCEF is focusing on helping the left-behind young and elderly.  It innovates with its community-based and student-centered curriculum rather than focusing strictly on test prep.
Access to Education for All through AI Investment: Squirrel AI
On top of this, China's mass implementation and investment in artificial intelligence (AI) is helping to provide access to education for all. Derek Li's Squirrel AI is a good example of this. Li found that conventional online training failed because it didn't engage students for more than a 14-minute stretch. Squirrel AI uses adaptative AI technology to teach, evaluate, test and train students. The AI technology simulates the methods and responses of the highest-rated teachers.
As Li says, "AI technology is at a point where it can disrupt the education industry that has not changed for hundreds of years, by providing every single child with access to the best teacher for that individual child's needs."  Squirrel AI also teaches students methods and thought processes anchored in imagination and creativity. It is one of the top two adoptive AI companies globally. The company has also opened 1800 offline learning centers that provide educational access to students in rural areas. This was especially important in times of COVID-19.
Thinking Ahead
If China's poverty reduction is to continue at a more sustainable rate, further development of quality education and other means of human capital development will be important. Hopefully, this development will also help increase the wages of the lowest wage workers who still live at a level of income that is not viable.
– Reuben Cochrane
Photo: Flickr
https://borgenproject.org/wp-content/uploads/logo.jpg
0
0
Naida Jahic
https://borgenproject.org/wp-content/uploads/logo.jpg
Naida Jahic
2022-10-03 07:30:40
2022-10-03 00:30:30
China's Poverty Reduction Plan