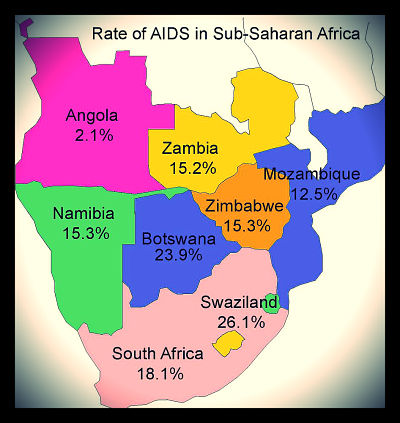 On March 3rd, doctors announced that they had "functionally cured" a Mississippi child born with HIV of the virus. A functional cure means that a patient has tested negative for the virus. In this case, the child no longer needs HIV medication, and is very unlikely to pass the virus on to others.
Doctors have already achieved a 98-99% success rate in the US in preventing the passage of HIV from pregnant mothers to their newborn children. This is accomplished through aggressive retroviral drug treatment during pregnancy, and continued treatment of the newborn after birth.
In the United States, about 0.3% of the population, or 1.1 million people, is living with HIV/AIDS. In sub-Saharan Africa, nearly 5% of the population is living with HIV/AIDS. That's 22.5 million people: the combined population of Iowa and New York states.
In sub-Saharan Africa, the virus is particularly widespread among women and children. There, 387,500 children under the age of 14 were receiving anti-HIV drug treatment in 2010. The number of children who needed treatment but weren't receiving it was estimated to be about 2 million. While African HIV infection rates have been dropping over the last decade as a result of better health care and education, the virus remains an epidemic.
What would an HIV cure mean for the world's poor? Being able to cure babies and children of the virus, as well as stopping the spread of HIV from mothers to children, would eliminate the majority of new cases in sub-Saharan Africa. Curing newborns of HIV worldwide would mean a significant decrease in infant and child mortality, and healthier and easier lives for families. It would also eliminate the need for a lifetime of costly anti-viral drugs for those children cured.
– Kat Henrichs
https://borgenproject.org/wp-content/uploads/The_Borgen_Project_Logo_small.jpg
0
0
Borgen Project
https://borgenproject.org/wp-content/uploads/The_Borgen_Project_Logo_small.jpg
Borgen Project
2013-03-04 13:09:04
2017-03-20 13:00:42
What Would an HIV Cure Mean for the World's Poor?