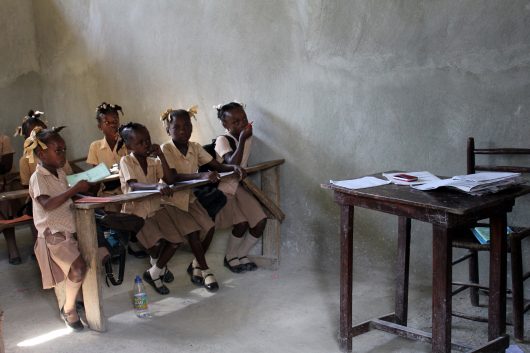 For many years, Haiti has not only been the poorest country in the Western Hemisphere, but also one of the most destitute in the world. Rocked by earthquakes, cholera epidemics and hurricanes over the past few years, the country has struggled to improve many facets of life for its citizens. As such, education in Haiti faces many obstacles, including teacher training, accessibility and funding.
Currently, almost 80 percent of teachers have not been exposed to the proper training prior to their tenure as educators, and half of those working in the country's few public institutions lack basic teaching qualifications.
Public schools are almost non-existent in Haiti – almost 90 percent of establishments are run by religious organizations and non-government entities. Because these schools are private, they require tuition fees in order to operate, which is often a huge burden for families in a country where the average annual income is roughly $800.
More than half of all children do not attend school, and the development of education in Haiti must contend with the staggering fact that over half of Haitian adults are illiterate, and as many as 50 percent of second graders cannot read even one word.
However, in an effort to improve the quality of life for millions around the world, USAID has teamed up with 6 U.S. universities to develop innovative solutions to a variety of problems. By awarding over $3 million in grants to graduate students across the country, USAID has committed to improving the lives of people across the globe.
As part of this effort, the University of Notre Dame was awarded a grant in December 2012 to take on the challenge of literacy in Haiti. The grant will cover 150 schools and as many as 30,000 children and will work in tandem with the Haitian Catholic Church over the next four years. Additionally, USAID has partnered with Haiti's Ministry of Education to the tune of $6.3 million to improve early-grade reading and writing skills.
The University of Notre Dame is certainly familiar with the daunting task of improving the lives of Haiti's young students. In 2014, the university's Alliance for Catholic Education (ACE) launched the "Read to Learn" initiative, aiming to reach 7,000 children in 52 schools by expanding Creole reading programs, the native language of 95 percent of Haitians.
Although recent years have been tumultuous and full of challenges for the country, its people remain resilient and dedicated to improving their communities and the lives of their children. With the help of organizations such as ACE and USAID that are committed to improving literacy and education in Haiti, students throughout the island have hope for better education and a brighter tomorrow.
– Emily Marshall
Photo: Flickr