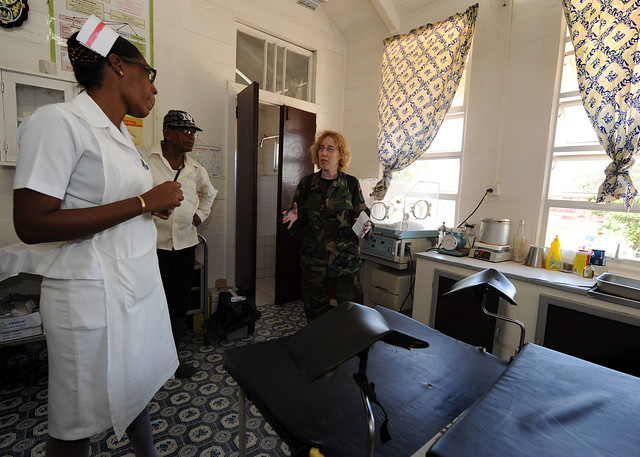 The catalyst for improvement of Guyana's healthcare system was the HIV/AIDs crisis, which was difficult to manage as a result of the country's insufficient healthcare system. Since then, however, healthcare in Guyana has improved substantially. Some of the most notable improvements to Guyana's healthcare system include an increase in life expectancy, increased immunization coverage, increased education and awareness surrounding health issues and decreased infant mortality rates.
"Health Vision 2020"
Healthcare in Guyana is comprised of both a public and a private sector. The Ministry of Public Health leads the public healthcare sector, which functions as a universal healthcare system for all citizens and residents of Guyana. In 2013, the World Health Organization, in combination with Guyanese government agencies and other key stakeholders, created "Health Vision 2020," a national health strategy enacted to improve the standard of living in Guyana.
Since the strategy's enactment in 2013, Guyana has seen an impressive decline in the number of reported malaria cases, which once presented an overwhelming threat to the wellbeing of the population. In 2013, there were 31,479 reported cases of malaria. Just two years later in 2015, Guyana minimized the threat of malaria, reporting only 9,984 cases.
Over a slightly longer period of time, Guyana also saw an increase in life expectancy, progressing from 59 years for males in 1992 to 63 years in 2011. In 1992, females were expected to live for 66 years, while in 2011 female life expectancy reached 69 years. Also notable is the improvement made in the number of children receiving an immunization to measles. The percentage of children who received the measles vaccine amounted to 99% in 2012, up from 73% in 1992.
Although the improvements made to Guyana's healthcare system are commendable, particularly under "Health Vision 2020," there are still many issues that Guyana's healthcare system overlooks.
Equitable Healthcare for Hinterland Communities
Though universal healthcare does exist in Guyana, free healthcare facilities and resources are generally catered to reach the majority of the population. Almost 90% of Guyana's population lives in coastal areas, whereas only about 10% of the population lives in the rural hinterlands. As a result, there is a far greater concentration of healthcare facilities and resources in the coastal areas. Access to healthcare for those living in the hinterlands of Guyana is limited, given that there are few healthcare clinics located outside of coastal areas. Healthcare clinics located in remote areas offer services inferior in quality.
Non-Communicable Diseases
Guyana's healthcare system has also been unable to curb the effects of non-communicable diseases. In 2012, non-communicable diseases made up the top five leading causes of death in Guyana. Still today, some of the leading causes of deaths in Guyana include ischaemic heart disease and diabetes. In 2015 alone, diabetes was responsible for 9% of the total deaths in Guyana.
Although non-communicable diseases are non-transmissible, it is possible to reduce the number of those with these diseases, particularly through education and awareness. Many non-communicable diseases are caused by high intake levels of alcohol, tobacco, salt, sugar and a lack of physical inactivity. Heightened public awareness of the causes of the most prevalent non-communicable diseases in Guyana would likely reduce the number of those infected.
Healthcare Workforce
While Guyana has managed to recruit more than 500 trained doctors and physicians over the last five years, shortages in the workforce "exist in areas such as registered nurses and nurse midwives, radiographers, medical technologists and social workers." Part of the problem stems from a lack of incentives for healthcare workers to stay in the public sector and as practitioners in the country. There is also a lack of foreign expertise in the Guyanese healthcare system. Foreign doctors often offer valuable knowledge, especially when dealing with diseases and viruses that might be less common in Guyana.
What Is Being Done?
The Organization for Social and Health Advancement for Guyana and The Caribbean (OSHAG) is a nonprofit organization based in Queens, New York, that demonstrates the possibility for effective solutions to these pressing issues. The organization strives to raise awareness about the need for improved medical services and treatment in Guyana, specifically for cancer patients. OSHAG raises awareness through health education and gatherings of medical professionals with valuable skills to offer to patients in Guyana.
In 2014, OSHAG's team of medical professionals provided training to nurses within four of the 1o regions that make up Guyana. The team worked to improve the chemotherapy and oncology department at the Guyana Georgetown Public Hospital. Though the organization specifically aims to improve treatment, services and facilities for cancer patients, OSHAG's impressive leadership and methodology demonstrate what is possible for healthcare in Guyana. With increased awareness, education and foreign interest and investment, healthcare in Guyana can undoubtedly reach new heights.
Though Guyana has made impressive improvements to its healthcare system, there is still room for improvement. Unequal access to healthcare services and facilities, non-communicable diseases and an understaffed healthcare workforce present some of the most pressing problems. However, each of these problems can be addressed through heightened public awareness and education, and increased financial investment and foreign relations.
– Stacy Moses
Photo: Flickr
https://borgenproject.org/wp-content/uploads/logo.jpg
0
0
Kim Thelwell
https://borgenproject.org/wp-content/uploads/logo.jpg
Kim Thelwell
2020-07-23 01:30:05
2020-07-24 16:48:18
Healthcare in Guyana