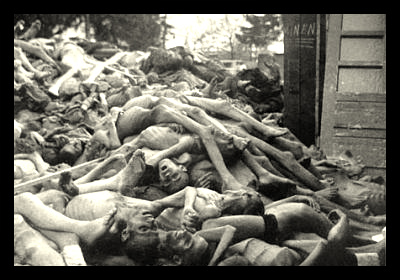 Throughout history, there has been a problem in classifying mass killings as genocides.  The term "genocide" carries a lot of weight because it implies that there was a deliberate extermination of a certain group of people.  Would natural disasters deliberately ignored by the government qualify as genocides?  Can colonization be considered a form of genocide?  Was the North Atlantic Slave Trade genocide?  Since the definition and characteristics of genocide are subjective, this post considers a broad definition of genocide, as in, organized mass murders that are politically, racially, religiously or ethnically fuelled.  The following list is by no means ranking the genocides in any terms, nor is this a comprehensive list of world genocides 
The Nazi Holocaust
Nazi Germany, led by Hitler in the 1930s and 1940s, sought to exterminate the Jewish population.  The Jews were used as a scapegoat for Germany's economic crisis.  Over the course of WWII, close to 8 million Jewish people were slaughtered by the Nazi regime.  Close to 2/3 of all Jews living in Europe were killed, including 1.1 million children.  Furthermore, some 300,000 members of the Jewish population in Eastern Europe were displaced.
Trans-Atlantic Slave Trade
The slave trade to North America killed many Africans as they were uprooted and shipped across the Atlantic.  Over 12 million Africans were transported to the Americas and sold into slavery from the 16th to the 19th century.  The trans-Atlantic slave trade is considered one of history's greatest tragedies in terms of scale and duration.
Holodomor (Soviet famine of 1932-1933)
Often called the "Terror-Famine" in Ukraine, this genocide was responsible for the deaths of 2.5 to 7.5 million Ukrainians.  From 1932 to 1933, Stalin withheld aid, restricted migration and confiscated food from Ukrainian peasants.  Holodomor, essentially means "extermination by hunger."  Scholars believe that Stalin was attempting to quell the Ukrainian nationalism that threatened the USSR's hold over the country.  Due to shoddy record-keeping and government corruption, the details concerning this genocide are largely unknown.
China's Great Leap Forward and the Cultural Revolution
China's movement towards a utopian communist society from the 1940s to the 1970s failed miserably. Some 40-70 million people died due to starvation as well as the targeted killing of "rightists" and elites by the Red Guard, a communist youth organization that led the Cultural Revolution.  The promotion of a "class struggle" prompted young people to fight against society's elites, such as professors, landowners and businessmen.
Pol Pot's Cambodia
From 1975 to 1979, Pol Pot's regime targeted intellectuals, foreigners and elites in an attempt to create an agrarian utopia reminiscent of Mao Zedong's Cultural Revolution.  Over 2 million people were killed in a period of 4 years.  Any foreign economic or medical aid was suspended, media was censored, outside contact was forbidden and the country's currency was eliminated.  People were forced to work all day in the fields, but were forbidden from eating the food they produced.  Those who were not targeted by the government often died of starvation or disease.
– Stephanie Lamm
Photo: Alan Hart
Sources: Union County College, About.com, SlaveVoyages.org, UNESCO, The History Place
https://borgenproject.org/wp-content/uploads/logo.jpg
0
0
Borgen Project
https://borgenproject.org/wp-content/uploads/logo.jpg
Borgen Project
2014-02-04 20:36:45
2019-10-30 12:11:24
5 Genocides that Changed the World