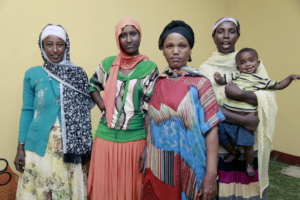 Ethiopia faces many struggles, but the land where coffee originated has many accomplishments as well. The continuous progression made for gender equality in Ethiopia is one of them. Gender-based roles constitute a significant part of the Ethiopian culture. It is also the primary reason for many families' extreme poverty. However, through policy reform and promoting women's political participation, there has been a noteworthy change in bridging the gaps between women and men.
Policy Reforms Encourage Gender Equality in Ethiopia
Thanks to two reforms, research suggests that promoting gender equality in Ethiopia has become very feasible.
One reform is the Family Code, which was revised in 2000 with new developments. The re-evaluated version of the Family Code states that women receive equal rights throughout the marriage. This pertains to the entire term of their marriage, the duration of the divorce, and after the finalization of the divorce. The revisions also note that the individuals must equally split all assets. As a result, the report states that women were less likely to involve themselves in domestic work. Instead, women found more sustainable employment outside of the household, which encourages their independence.
The second reform is the community-based land registration, which was initiated in 2003. Ethiopia's population has strong gender norms that tend to favor men and subordinate women in power roles. Research results have shown that as women migrate from the north of Ethiopia to the southern region, they tend to lose societal and household status. Women also have their "bargaining power" revoked from them, which can relate to property rights and ownership. However, this reform emphasizes the implementation of property rights for married women by creating "joint certification."
A significant sign of independence in Ethiopia is property. However, men typically have land ownership in marriages. This reform opposes that gender-based norm in Ethiopia and allows women to access economic and political opportunities. When women own land, it increases their chances of earning money and controlling their own life. Rules set by their husband no longer have to confine them. They are also less likely to be victims of domestic violence. Ethiopian women who own property are significantly less likely to experience domestic violence within their marriage than women who do not own property.
Women's Political Participation Rises
Women currently make up 37% of congress in Ethiopia. Considering only 22% of women represented congress in 2010, there has been significant progress ever since. However, the Ethiopian government's accuracy and trustworthiness will remain in question until women account for at least 50% of the parliamentary seats.
The country also needs to make political careers more accessible to women. The "motherhood penalty" requires women to attend to constant family duties and responsibilities, such as breastfeeding and always being present for the children. Endless motherly duties can hinder their potential political career due to the amount of time it takes. This is especially true if a women's marriage is based on strong religious beliefs. Certain religious beliefs in Ethiopia tend to prohibit women from having the independence they deserve and hinder their decision-making abilities.
DCA
In Ethiopia, women are perceived as those to be led, not to be the ones leading. However, recent years' progression contradicts that idea. The organization DCA (Dan Church Aid) emphasizes the idea of women empowerment. They hold and spread the belief that every woman deserves fundamental human rights "economically, socially, and culturally."
DCA was created in 1995 to promote gender equality in Ethiopia. Since then, the organization has helped over 3.2 million people in the world's most impoverished countries deprived of everyday opportunities. Due to the continuous contribution of DCA and recognition from Ethiopia's government regarding the encouragement of gender equality, the women of Ethiopia can seek more political positions and close those gender gaps within communities.
– Montana Moore
Photo: Flickr
https://borgenproject.org/wp-content/uploads/The_Borgen_Project_Logo_small.jpg
0
0
Yuki
https://borgenproject.org/wp-content/uploads/The_Borgen_Project_Logo_small.jpg
Yuki
2021-01-12 07:30:57
2021-01-01 10:26:15
Gender Equality in Ethiopia Makes Headway