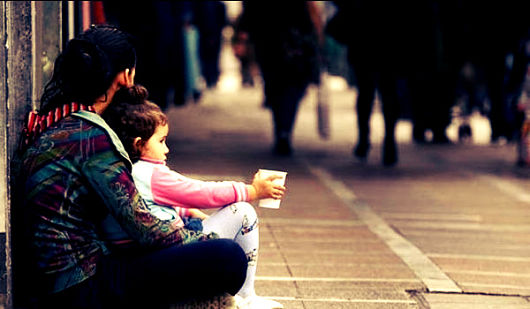 A new report by UNICEF France has revealed that over three million children in France live in poverty. In a span of four years, the number of children living under the poverty line increased by 440,000. Also touched on, was the high level of discrimination and human rights violation of poor migrant children. The report also addressed France's failure to implement a strategy for children, and suggested 36 policy adjustments.
We often think of France as a sturdy, developed world power, but the widening gap between the rich and the poor, lack of policies aimed at children and widespread discrimination against migrants, show that developing countries aren't the only places for progress to be made. In fact, many European countries face higher rates of child poverty and an estimated 1 in 3 children lives in poverty in both the United Kingdom and Spain.
These findings seem astonishing, especially for a country with the financial status and power as France, but it goes to show how important policies are. Without the proper policies in place, countries will not make progress. This new report and the investigation as a whole will provide a prime example for governments all over the world. Policy is what gives a country the power to grow. For example, we have seen poverty reduction programs go into developing countries with the good intentions of providing or creating capital only to see it stop there because of a lack of regulation or policies in place to continue growth, and to protect that growth.
The lack of policy aimed at French youth is alarming from any standpoint. The high rate of poverty among children suggests a lack of investment in youth, which will hurt France in the long term. With 3 million impoverished children, the outlook on the future working generation is not good. The rates of homelessness and school dropouts should be a serious wake up call for the French government. As more and more children fall below the poverty line, fewer children are enrolled in school, which translates directly to less economic and political participation in the future. The decreased participation will make for a less productive nation and France, as a whole will face a number of resulting problems needing urgent attention.
France has a reputation for discrimination against migrants and foreigners and this report as a part of a broader investigation and the changes the French government makes as a result should hopefully loosen some of those longstanding divisions. In order to succeed and grow as a nation, France desperately needs to become more progressive. There needs to be less marginalization and more positive policy aimed at children and at migrants to encourage them to succeed, which will in turn help France as a whole to grow.
– Emma Dowd
Sources: Eurostat, France 24, Newsweek, World Bulletin
Photo: FarsNews
https://borgenproject.org/wp-content/uploads/logo.jpg
0
0
Borgen Project
https://borgenproject.org/wp-content/uploads/logo.jpg
Borgen Project
2015-06-17 01:38:06
2020-07-15 18:31:30
1 in 5 Children in France Living in Poverty