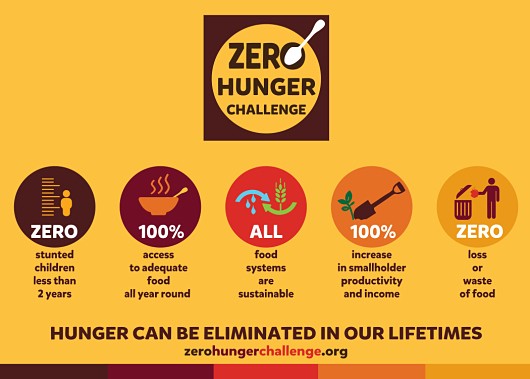 It is a simple phrase, proven fact and universal goal all in one: Hunger can be eliminated in our lifetime.
This belief launched the Zero Hunger Challenge in 2012, a program that challenged individuals and organizations to recognize and assist the 800 million hungry people around the world.
Started by U.N. Secretary-General Ban Ki-moon, the challenge strives to achieve five outcomes: zero stunted children less than two years, 100% access to adequate food all year round, making all food systems sustainable, a 100% increase in smallholder productivity and income, and zero loss or waste of food.
Ki-moon believes that combining these five elements will create a world with no hunger. The Zero Hunger Challenge encourages participation from a wide range of people and organizations.
Now three years after Ki-moon launched his Zero Hunger Challenge, countries around the world are declaring their own "end hunger" plans.
In May 2015, the United Nations assisted the government of the Lao People's Democratic Republic in launching the National Zero Hunger Challenge, which joined with other countries to eliminate hunger and malnutrition while also increasing food resources. Also in May, the Royal Government of Cambodia started a National Zero Hunger Challenge to end hunger in their country by 2025.
As more countries join the National Zero Hunger Challenge, the goal to end hunger becomes more and more realistic. The United Nations estimates that ending world hunger will require investments in rural and urban areas so that poorer people can have access to food and can improve their lives.
Recently, the Zero Hunger Challenge has gained more support from church organizations.
The Ecumenical Advocacy Alliance, a global network of church organizations, asks all uninvolved individuals and churches to join the initiative.
Dr. Manoj Jurian, World Council of Churches coordinator, said, "No one should be hungry, especially in a world that already produces more than enough food to feed everyone. We can build sustainable and waste-free food systems that nourish and support all people and empower the smallholder and family farms that produce that vast majority of the world's food."
Dr. Jurian also notes that as religious people, churches are committed to ensuring that no person is hungry. The Bible contains many stories about hunger, the most notable being Matthew 1:25, in which Jesus tells his followers, "For I was hungry, and you fed me. I was thirsty, and you gave me a drink. I was a stranger, and you invited me into your home." In these lines, caring individuals aid someone in need of food and water; like so, Dr. Jurian claims it is part of religious duty to help those in need.
With active participants around the world, world hunger can end in our lifetime. To join the challenge, visit: www.un.org/en/zerohunger/.
– Kelsey Parrotte
Sources: AllAfrica, Ecumenical Advocacy Alliance, United Nations
Photo: United Nations