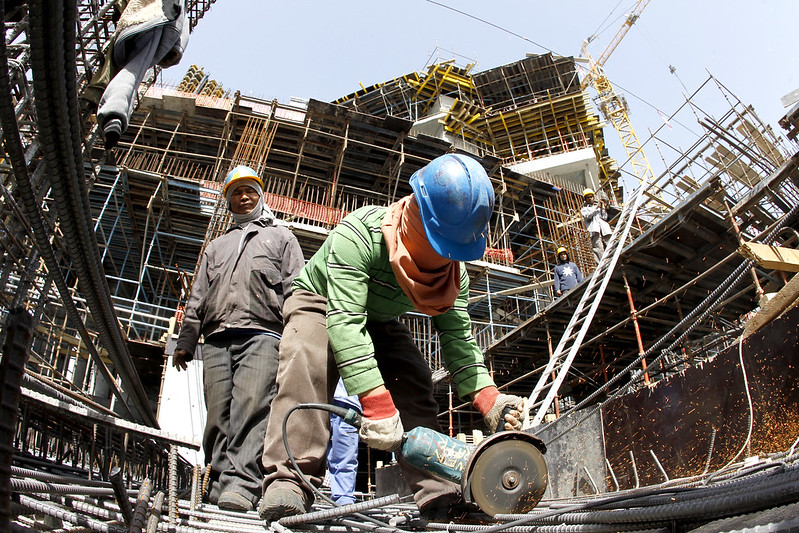 This year, from November 20 to December 18, 32 countries competed in Qatar for the coveted championship cup. While the FIFA World Cup Qatar tournament is an extraordinary display of international collaboration and unity, it is important to consider the social ramifications of the World Cup and its contribution to poverty. For the last several years, the impacts of major sporting events on the poor communities in host cities have been a point of concern. This year, human rights advocates all over the world are condemning Qatar for its disregard for human rights, particularly the mistreatment of migrant laborers.
Migrant Laborers in Qatar
Since Qatar was awarded the privilege of hosting the tournament 12 years ago, the nation has poured an estimated $220 billion into construction This includes the building of eight stadiums, several new hotels, rail and highway infrastructure and "expansion of the airport," Human Rights Watch reports, through the efforts of millions of migrant workers. While FIFA moved the tournament itself to November to protect the athletes from dangerously high heat levels, laborers toiled in extreme conditions of heat.
Though it is impossible to obtain exact numbers, "official Qatari statistics show that 15,021 non-Qataris died in the country between 2010 and 2019." After contacting five embassies in Qatar (India, Pakistan, Nepal, Bangladesh and Sri Lanka), The Guardian confirmed at least 6,750 deaths of migrant workers in Qatar since FIFA awarded the nation the games. However, this is an underestimation as there are many more countries that have sent workers to Qatar.
Media reports detail inhumane and unsafe working conditions in FIFA World Cup-related projects. These deaths have also put a spotlight on the Gulf region's "kafala" (sponsorship) system, under which "laborers require their employers' permission to switch jobs, return home or even open a bank account." Workers cannot join labor unions or strike and Human Rights Watch has even documented "wage theft by a prominent Qatari construction firm with FIFA-related projects." It is still standard for many migrant workers to pay inordinate recruitment fees that result in a form of debt bondage.
Restitution and Compensation for Deaths
Officials have blamed thousands of these deaths on "natural causes," overlooking the harsh inhumane working conditions. According to the U.N. Guiding Principles on Business and Human Rights, affected families have the right to request restitution or financial compensation for the wrongful deaths of their loved ones.
However, when these deaths are attributed to "natural causes" or classified as "non-work-related," Qatar's labor law refuses families any compensation. Amnesty International says the Qatari government has neglected to properly investigate these deaths. Economic hardship resulting from these wrongful deaths may push families into debt bondage and increase rates of child marriage and child labor.
Human rights organizations say FIFA is making minimal efforts to prevent these deaths or set acceptable standards of protection for migrant workers. FIFA is disregarding its 2017 Human Rights Policy that pledges to "go beyond its responsibility to respect human rights" by taking "measures to promote the protection of human rights and positively contribute to their enjoyment."
At the "Managing the Beautiful Game" conference on May 2, FIFA President Gianni Infantino was questioned on whether FIFA supports the families of the workers who perished building FIFA World Cup stadiums. Infantino retorted, "when you give work to somebody, even in hard conditions, you give him dignity and pride," later adding, "6,000 might have died in other works and so on…[but] FIFA is not the police of the world or responsible for everything that happens around the world."
Taking Action
A media attaché at the Qatari Embassy highlighted in a November 2022 article that "the World Cup has been a catalyst for Qatar to develop a robust labor program."
"Reforms include a new nondiscriminatory minimum wage, the removal of barriers to change jobs and the introduction of a worker compensation fund in 2018 that had paid out at least $350 million" at the time of writing.
The International Labour Organization (ILO) confirms this progress, recognizing on November 1, 2022, that Qatar had "undertaken comprehensive labor reforms to improve the conditions of the hundreds of thousands of migrant workers." The reforms have "yielded benefits for workers, employers and the economy more broadly."
Individuals and organizations around the world have come together to illuminate the human rights violations occurring in Qatar. Football clubs, players, supporters and celebrities from around the globe even called for a boycott of the 2022 FIFA World Cup Qatar. While there is no true compensation for losses of life, the circumstances have brought the international community together in support of basic human rights.
– Carly Ryan Brister
Photo: Flickr
https://borgenproject.org/wp-content/uploads/logo.jpg
0
0
Saiesha
https://borgenproject.org/wp-content/uploads/logo.jpg
Saiesha
2023-01-02 07:30:03
2022-12-31 02:01:56
FIFA World Cup Qatar Draws Human Rights Controversy