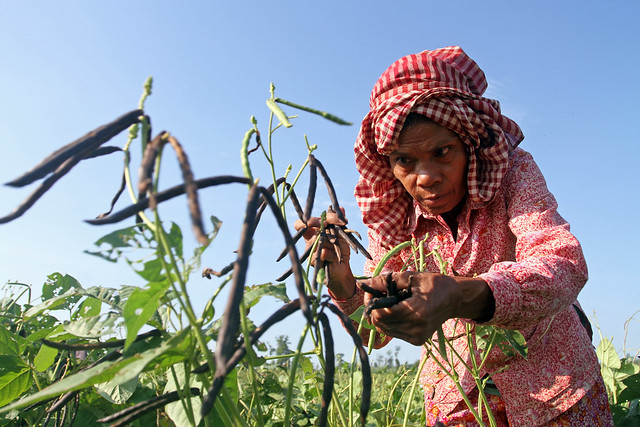 The U.S. produces around 38.7 percent of all corn grown globally and around 35 percent of all soybeans. With such a large stake in global markets, it is not surprising that when U.S. food policy changes occur, many and often poorer places feel their effects throughout the globe.
Over 1 billion people work in world agriculture, and in poorer regions, a majority of the workforce population works in agriculture. In Sub-Saharan Africa, for example, over 60 percent of the workforce is involved in agriculture. With such a dependence on agriculture, changes in global markets and farming policies can severely affect these poorer populations. U.S. food policy may impact foreign farmers negatively in four principal ways: restricting imports in which developing countries have a comparative advantage; stimulating an overproduction of commodities in the U.S., that when the U.S. exports lowers the international price of goods from which low-income country farmers derive their income; distorting food markets in developing countries by the provision of in-kind food aid; and reducing official development assistance for agricultural and rural development.
Subsidies
Subsidies are a long-standing agricultural policy in the United States. Originating during the Great Depression, farming subsidies are payments and other support that the U.S. federal government gives to certain farmers. Today, the U.S. distributes around $20 billion to farming businesses annually. In 1930, when the stock market crashed, around 25 percent of Americans lived on farms and ranches and the government intended subsidies to help support these smaller family-run farms. Today, the largest 15 percent of farm businesses receive 85 percent of government subsidies that protect them from price fluctuations and unexpected decreased crop production.
Because of the U.S. subsidy system, it is cheaper for U.S. farmers to produce certain crops and thus it is cheaper for many poor nations to import crops such as wheat, barley and corn, instead of buying and growing locally. As one of the world's largest cotton producers, subsidies can cause severe global price depression. In 2004, Brazil challenged the U.S. cotton subsidies with the support of the World Trade Organization (WTO). The WTO found that U.S. cotton subsidies were responsible for distorted international markets. In winning the dispute, Brazil could impose $830 million in product sanctions and the U.S. paid $300 million to the Brazil Cotton Institute as reparations.
Subsidies are also the main cause of more market distortion for corn, one of the U.S.'s most lucrative crops. Under the North American Free Trade Agreement (NAFTA), the U.S. exports highly subsidized crops that compete with Mexican products. The exported corn contributed to a 413 percent increase in U.S. exports and a 66 percent decline in Mexican producer prices from the 1990s to 2005.
Cargo Preference
Cargo preference is another policy interfering in international relations between the U.S. and its beneficiaries. The Cargo Preference Act of 1954 ensures that ships operated by U.S.-based companies must transport at least 50 percent of overseas-bound food aid. Because of this regulation, 35-40 cents of each dollar spent on food aid goes toward transportation rather than the food itself.
The United States established Cargo Preference to protect U.S.-flag maritime companies and unions from competing for foreign cargo ships. These companies may increase or decrease the cost of transportation. The disparity between foreign-flag and U.S.-flag ships is very costly to the food aid effort. U.S.-flag ships can cost around $100-135 per metric ton while foreign-flag ships cost around $65 per metric ton. By matching foreign pricing, the country could use the $23.8 million that the country that it would have spent on shipping towards feeding the poor.
If the U.S. were to eradicate cargo preference, there would be an additional $300 million to feed another 9.5 million people each year.
Biofuel Mandates
The Renewable Fuel Standard (RFS) emerged with the Energy Policy Act of 2005. This federal policy requires transportation fuel to contain a minimum volume of renewable fuel, namely ethanol from corn or soybeans. This policy was to help American farmers and decrease dependency on foreign oil.
The policy has, however, had a negative effect on global food prices. According to the Resources for the Future, estimates determine that the RFS in the U.S. and the E.U.'s own biofuel mandate will increase global food prices by 15 percent by 2022. Because the RFS demands more corn for ethanol production and because the U.S. produces 40 percent of the world's corn crops, the policy has had a critical impact on global corn markets. An Iowa State University study estimates that the RFS has diverted a third of U.S. corn crops (10.8 percent of the global corn market) towards production of ethanol and biofuel and has caused an increase in global corn prices from 8-34 percent.
Proactive Policy
The U.S. government has taken major steps toward improving the food security of poor nations. While many food policies focus on farmers and exporting goods, the Global Food Security Reauthorization Act (GSRA) targets farmers in developing countries. Signed into law in 2018, the GSRA ensures funding and support for the Feed the Future initiative. Feed the Future works with local agriculture sectors in developing countries to help build up strong farming techniques and give them the tools to ensure their food security. Thanks to Feed the Future, estimates state that 23.4 million people now live above the poverty line and that farmers have generated $12 billion in new agricultural sales from 2011 to 2017.
Due to the size and volume of exported crops and resources, the U.S. food policy has a strong pull on global markets. Developing and poor nations can feel the effects of rising and falling global food prices most keenly. Therefore, it is important for U.S. policymakers to assess the impact of these policies and others like them. Luckily, initiatives like Feed the Future are working hard to help build stable agricultural communities in developing countries. With such size and resources, the U.S. has the power to create positive change in global markets.
– Maya Watanabe
Photo: Flickr
https://borgenproject.org/wp-content/uploads/logo.jpg
0
0
Jennifer Philipp
https://borgenproject.org/wp-content/uploads/logo.jpg
Jennifer Philipp
2019-10-19 13:34:23
2019-10-30 08:09:07
The Impact of US Food Policy